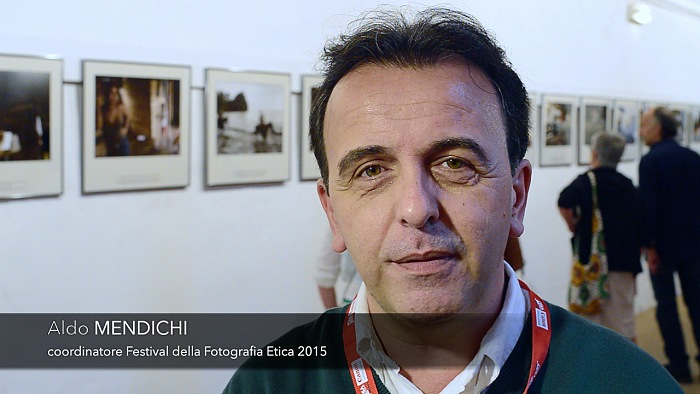 1 / 2
Ethical exhibitions in Lodi
The press conference presenting the sixth edition of the Festival of Ethical Photography took place in Milan at the Frigoriferi Milanesi. During the meeting with the press the coordinators of the event, Alberto Prina and Aldo Mendichi of the Gruppo Fotografico Progetto Immagine, presented the programme of exhibitions that you can visit from 10th to 25th October 2015. After the previews released by FPmag from Alberto Prina, coordinator of the festival, during the Visa Pour l'Image a Perpignan, here is the presentation of Aldo Mendichi released at the same venue.



EXHIBITIONS 2015 EDITION
Here is a quick list of the works that will be on display in Lodi from10th to 25th October 2015 with the link to the site of the Festival of Ethical Photography.
FOOD THAT KILLS
Ed Kashi - Under Cane: A Worker's Epidemic
Lisa Krantz - A Life Apart: The Toll of Obesity
Pablo Ernesto Piovano - El costo humano de los agrotóxicos
Nadia Shira Cohen and Paolo Siqueira - Terra Vermelha

IN-DEPTH ANALISYS AREA
Massimo Sestini - Ho visto cose
Jocelyn Bain Hogg - The Family

A GLANCE ON THE WORLD
Francesco Anselmi - Tra terra e nuvole - Cronache dalla Grecia
Bülent Kiliç - Visions of Turkey
Valery Melnikov - Black Days of Ukraine
Robin Hammond - Where Love is Illegal
Philip Montgomery - Flash Points

WORLD.REPORT AWARD | DOCUMENTING HUMANITY AREA
Master Award: Giulio Piscitelli - From There to Here
Spot Light Award: Elena Anosova - Section
Short Story Award: Mariano SIlletti - Ludovicu

ONG AREA
Bambini Cardiopatici: Giovanni Porzio - A cuore aperto
Amici per il Centrafrica: Ugo Lucio Borga - In the Name of Go(l)d
CESVI: Alberto Prina - Uganda Land of Hope
MSF: Paula Bronstein - Malnutrition in Boost Hospital
FOOD4: Annalisa Brambilla, Sanjit Das, Gianluca Cecere, Giada Connestari - Il futuro della sicurezza alimentare
_ _ _
◎ Previews on the Festival of Ethical Photography
◎ The announcement of the winners of the World.Report Award | Documenting Humanity
◎ The winners' gallery of the World.Report Award | Documenting Humanity
published on 2015-09-18 in NEWS / EVENTS
FFE2015
more in EVENTS


recent news
FPmag
editor in chief Sandro Iovine | sandro.iovine@fpmagazine.eu - senior writer Stefania Biamonti - web developer Salvatore Picciuto | info@myphotoportal.com - linguistic coordination Nicky Alexander - translations Nicky Alexander, Rachele Frosini - contributor Davide Bologna, Mimmo Cacciuni Angelone, Laura Marcolini, Stefano Panzeri, Pio Tarantini, Salvo Veneziano - local Lazio correspondent Dario Coletti local Sardinian correspondent Salvatore Ligios - local Sicilian correspondent Salvo Veneziano - editorial office via Spartaco, 36 20135 Milano MI | redazione@fpmagazine.eu - phone +39 02 49537170 - copyright © 2015 FPmag - FPmag is a pubblication of Machia Press Publishing srl a socio unico, via Cristoforo Gluck, 3 20135 Milano MI - VAT no. 07535000967 C.F. (TAX code) 07535000967 - Copyright © 2015 FPmag - Registered at Tribunale di Milano No. 281 on the 9th September 2014