Visa pour l'Image 2015
EXHIBITIONS
Temporary courtroom, Minova town, Democratic Republic of Congo, February 2014. The woman here is going to testify, and is afraid, thinking of the night she was raped. The psychologist, Miracle Chibonga Zawadyi, is trying to bring her back to the present: «Do you know where you are? There is nothing to fear here... Look at the egg... Focus on the present. You are here now, and you are safe». © Diana Zeyneb Alhindawi, Winner of the Humanitarian Visa d'or award – International Committee of the Red Cross (ICRC) 2015.
The Minova Rape Trials The first trial in the Democratic Republic of Congo where soldiers of the FARDC were put on trial for the crime of rape
EVENTS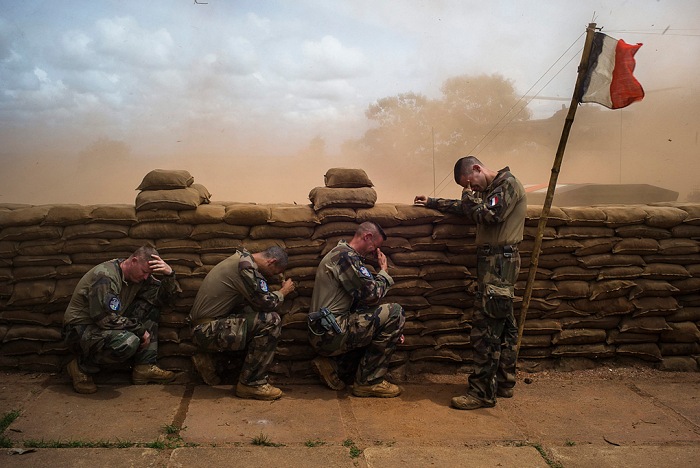 Soldiers sheltering behind sandbags while waiting for their commander. Bambari, Central African Republic, French outpost, August 16, 2014. © Edouard Elias/Getty Images Reportage. Winner of the Ville de Perpignan Rémi Ochlik Award 2015.
VISA pour l'Image 2015 The 27th edition of Visa pour l'Image is upon us. Here is a preview of the programme of the famous festival to be held in Perpignan from 29th August to 13th September 2015
FPmag
editor in chief Sandro Iovine | sandro.iovine@fpmagazine.eu - senior writer Stefania Biamonti - web developer Salvatore Picciuto | info@myphotoportal.com - linguistic coordination Nicky Alexander - translations Nicky Alexander, Rachele Frosini - contributor Davide Bologna, Mimmo Cacciuni Angelone, Laura Marcolini, Stefano Panzeri, Pio Tarantini, Salvo Veneziano - local Lazio correspondent Dario Coletti local Sardinian correspondent Salvatore Ligios - local Sicilian correspondent Salvo Veneziano - editorial office via Spartaco, 36 20135 Milano MI | redazione@fpmagazine.eu - phone +39 02 49537170 - copyright © 2015 FPmag - FPmag is a pubblication of Machia Press Publishing srl a socio unico, via Cristoforo Gluck, 3 20135 Milano MI - VAT no. 07535000967 C.F. (TAX code) 07535000967 - Copyright © 2015 FPmag - Registered at Tribunale di Milano No. 281 on the 9th September 2014


ITA - Informativa sui cookie • Questo sito internet utilizza la tecnologia dei cookies. Cliccando su 'Personalizza/Customize' accedi alla personalizzazione e alla informativa completa sul nostro utilizzo dei cookies, cliccando su 'Rifiuta/Reject' acconsenti al solo utilizzo dei cookie tecnici, cliccando su 'Accetta/Accept' acconsenti all'utilizzo dei cookies sia tecnici che di profilazione (se presenti).

ENG - Cookie policy • This website uses cookie technology. By clicking on 'Personalizza/Customize' you access the personalization and complete information on our use of cookies, by clicking on 'Rifiuta/Reject' you only consent to the use of technical cookies, by clicking on 'Accetta/Accept' you consent to the use of both technical cookies and profiling (if any).