The Island of the Colorblind
The Festival Circulation(s) and Marion Hislen, invited by Voies Off, presented the exhibition The Island of the Colorblind⁽¹⁾ by Sanne De Wilde at Voies Off 2017.
The author tells us that everything started with the Snow White project dedicated by Sanne De Wilde, at the beginning of 2010, to a young albino woman who told her a story on the island of Samoa. In Samoa, because of the small number of inhabitants, albinism had become a genetically widespread condition.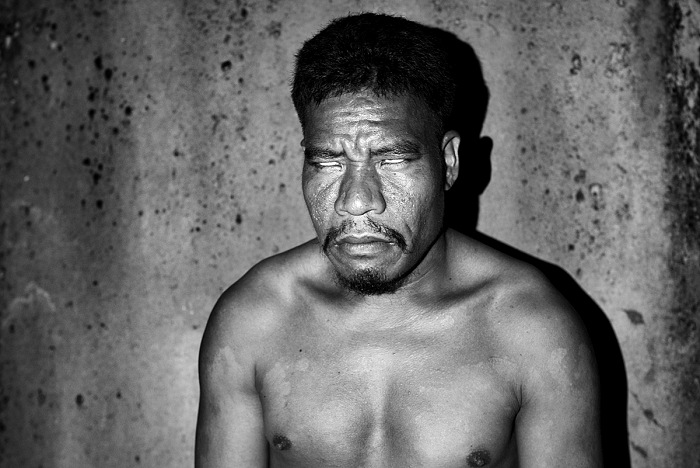 Sanne De Wilde, from the exhibition The Island of the Colorblind. © Sanne De Wilde.
Thanks to an interview on a radio station, Sanne De Wilde comes into contact with a young Belgian affected by Achromatopsia who tells her of the existence of Pingelap, a tiny atoll in the Pacific Ocean where this condition affects almost a quarter of the inhabitants.
Achromatopsia is an extreme typology of colour blindness that leads to the impossibility of distinguishing or perceiving any colour. People with Achromatopsia are also extremely sensitive to light and do not see much, but many of those living in Pingelap or the nearby Pohnpeians do not even have a pair of glasses, not even those for the sune.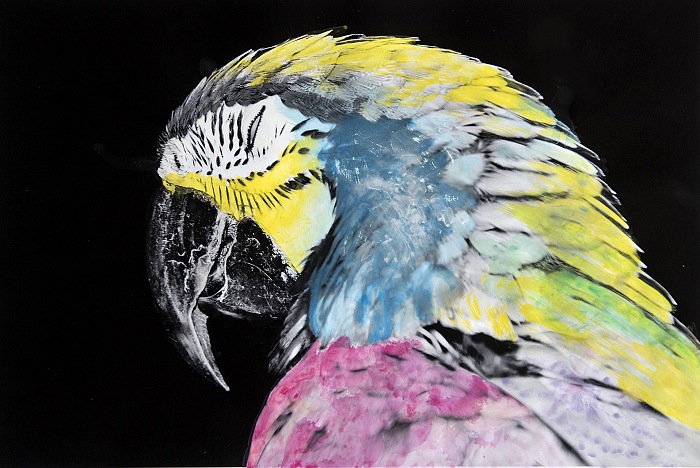 Sanne De Wilde, from the exhibition The Island of the Colorblind. © Sanne De Wilde.
The images of Sanne De Wilde intelligently tell the world of the colourlessness through a series of images already chromatically altered during the shooting. For the first time, the author used a modified camera to be sensitive to infrared frequencies without having any idea of the result she would get.
Sanne De Wilde's work also includes portraits of all the people with Achromatopsia on the island and a series of interviews gathered in a book with the intent to find sponsors to help the islanders and raise public awareness of the problem.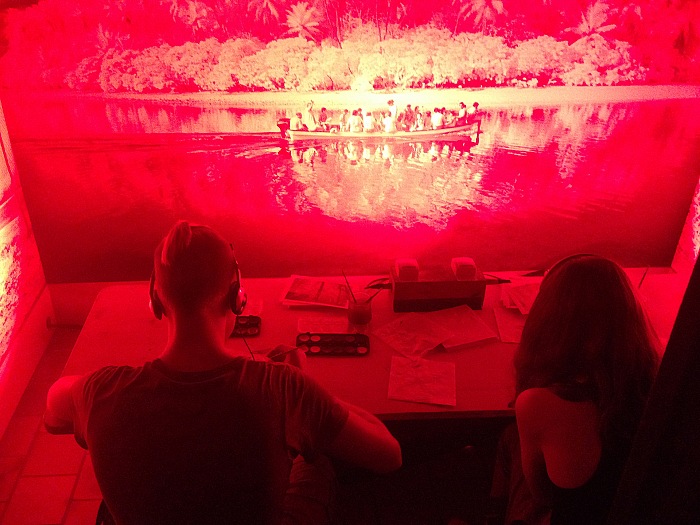 An illuminated space, which has special lighting where it is possible to try painting with watercolours, as part of Sanne De Wilde's The Island of the Colorblind exhibition. © Salvo Veneziano/FPmag.
While visiting the exhibition, you can also enter a room with special lighting that strongly alters the perception of colour and sit and paint a watercolour that, seen in normal light, will have a really unexpected aspect. [ Salvo Veneziano ]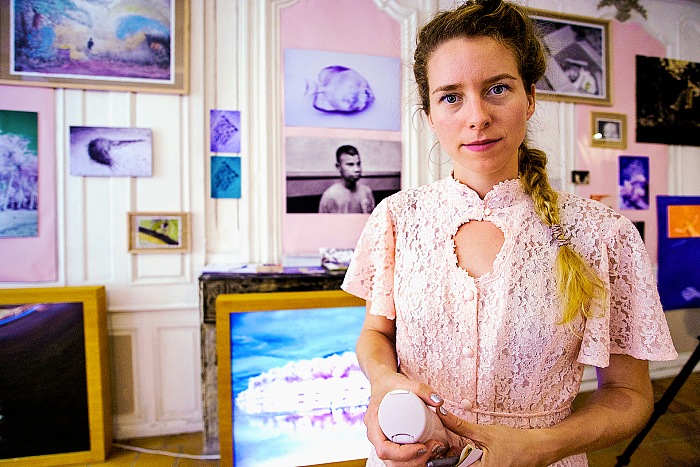 Sanne De Wilde during the visit to the exhibition The Island of the Colorblind. © Salvo Veneziano/FPmag.

- - -
THE ISLAND OF THE COLORBLIND
by Sanne De Wilde
6, rue Balze - Arles (France)
4 – 8 July 2017
opening times: daily, 10 am - 7 pm
entrance fee: free entry
_ _ _
(1) - For those interested in exploring the theme of Achromatopsia in the atoll of Pingelap we recommend reading L'isola dei senza colore by Oliver Sacks, Adelphi, Milan, 1997.

– – –
[ INTERNAL RESOURCES ]
◉ [ FPtag ] Voies Off 2017: the editorial staff point of view
◉ [ exhibitions ] Contrastes Andalous
◉ [ exhibitions ] A space for Photography
◉ [ exhibitions ] Fermez les yeux et regardez
◉ [ contest ] The Voies Off competition 2017
◉ [ FPtag ] Voies Off 2016: the editorial staff point of view
[ EXTERNAL RESOURCES ]
◎ Voies Off
◎ Sanne De Wilde