Africa in the mirror
Omar Victor Diop, n the panorama of contemporary African photography, represents a sort of link between modernity and tradition. While on the one hand its images sink their roots into a consolidated portraiture tradition, on the other hand, they introduce extremely topical elements to return the vision of awareness in young Africans.
Awareness that in the case of Omar Victor Diop was born from the study of the history and affairs of Africans who in the past managed to stand out in those countries that would have wanted slaves, succeeding in entering and influencing with their work in the societies where they lived. The purpose of a work like Diaspora, in which Diop using self-portrait impersonates these men, is not merely hagiographical. While on the one hand, in his images, there is a desire to honour the way in which these men have distinguished themselves on different continents other than that of their birthplace, and on the other it is the will to preserve the visual narrative of Senegalese portraiture. However it is not an operation, which is managed passively. In fact, there is the constant introduction of contemporary elements in apparent contrast to the look of the clothes worn and the time they represent.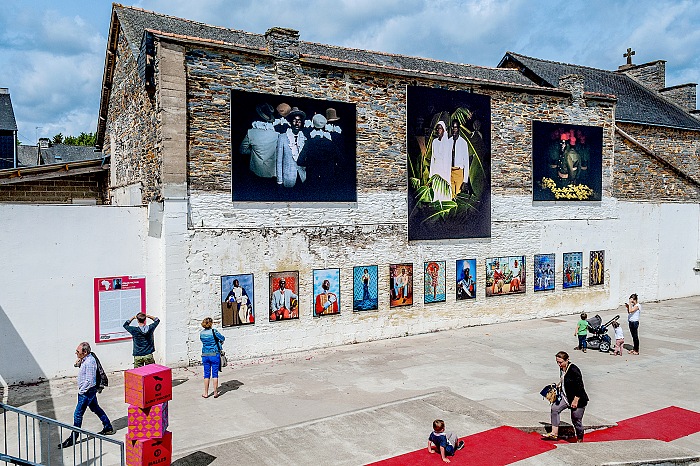 The setting of the exhibition Jeux de miroir en studio by Omar Victor Diop at the Garage in La Gacilly within the Festival Photo La Gacilly 2017. © Stefania Biamonti/FPmag.
It is a very sophisticated intellectual updating operation that looks at contemporaneity with a conscious sense of criticism. If, in fact, in the past, some Africans became distinct in the Western world due to their culture or courage, today the passport for recognised fame outside Africa seems to pass through the football fields. And here it appears in his self-portraits elements that refer to the world of football, the international showcase of a pseudo integration that passes, without interruption, from the creation and exaltation of the hero to the racist chorus.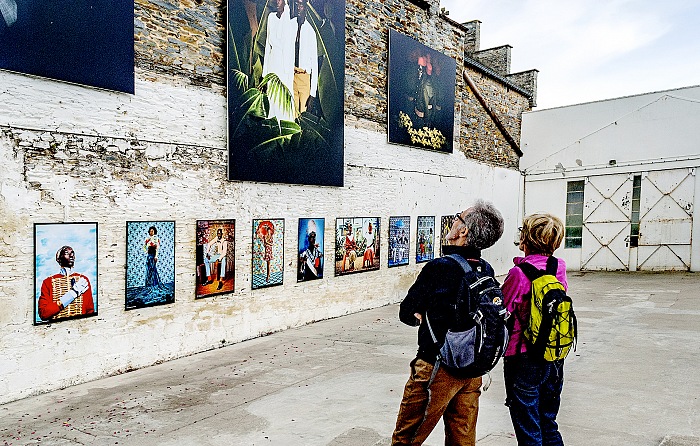 A moment of the visit to the exhibition Jeux de miroir en studio by Omar Victor Diop at the Garage, in La Gacilly, at the La Gacilly Photo Festival 2017.
A selection of works from various series, among which Liberty, Le Studio des Vanités and the already mentioned Diaspora, are presented at the Garage exhibition at the La Gacilly Photo Festival 2017. The impressive print sizes and the layout of the left wall in the large entrance to the exhibition space guarantees a great visual impact to the visitor. To the latter, however, I recommend that, on the basis of personal experience, to avoid, in the case of good weather, the central hours of the day during which the exhibition area tends to turn into a kind of open-air furnace. Which gives a synesthetic je ne sais quoi of African, but at the same time cripples the poor Westerner visiting. [ Sandro Iovine ]
- - -
JEUX DE MIROIR EN STUDIO
by Omar Victor Diop
Garage, 3, rue du Menhir – La Gacilly (France)
3 June – 30 September 2017
entrance fee: free entry

– – –
[ INTERNAL RESOURCES ]
◉ [ FPtag ] Festival Photo La Gacilly 2017: the editorial staff point of view
◉ [ FPtag ] Festival Photo La Gacilly 2016: the editorial staff point of view
◉ [ events ] Festival Photo La Gacilly 2017
◉ [ events ] Festival Photo La Gacilly 2015
[ EXTERNAL RESOURCES ]
◎ Omar Victor Diop
◎ Festival Photo La Gacilly