Toiletpaper: the primacy of the image?
Toiletpaper is the name of a magazine created in 2010, at this point six years ago, by Maurizio Cattelan and Pierpaolo Ferrari. Its most striking feature is the fact that it consists of only highly connate photographs under a formal profile. The writer of the Rencontres d'Arles 2016 catalogue considered it appropriate to define the character of these images as elegant and sophisticated. Frankly, taking the literal meaning of these words is not easy to fully accept this definition, unless we completely distort the meaning reported so far in these adjectives. The images that I was able to see on display in Arles and most of those seen leafing through the issues of Toiletpaper seem above all to be screaming visually to be noticed, which, for that matter, they can do perfectly. It seems clear from the first moment, leafing through the magazine even before visiting the open-air exhibition in the Parc des Ateliers that the director at the head of the entire operation knows exactly where he wants to get to and well knows likewise how to get to his objective.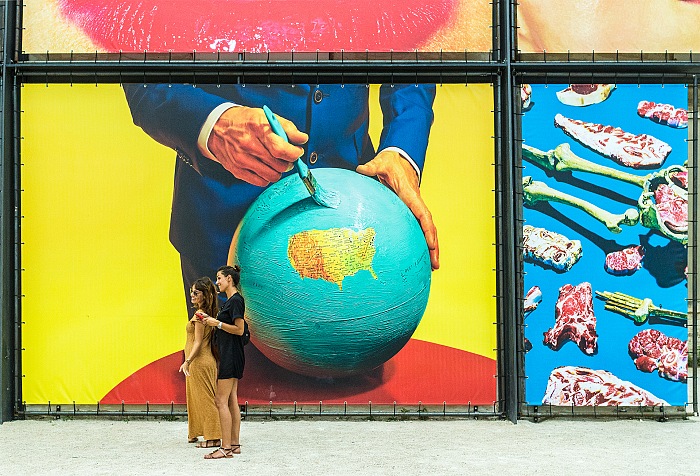 During the visit at the exhibition Toiletpaper curated by Maurizio Cattelan and Pierpaolo Ferrari. © FPmag.
Merits undoubtedly must be ascribed to Toiletpaper, which calls into question an expressive primacy of the photographic image and the ability of the latter to express meanings independently, or rather without being subject to subjection from the part of textual anchors. By contrast, the thread that underlies all the images is that of a hyperbolic representation both in content and in form based on bright colours and mise en scene rather elaborate and designed to amaze first before they provoke. A wide circle of words to define in a formal way the nature verging on kitsch of the iconography proposed by Toiletpaper. Provocation seems to be the password in all the coherent manifestations that revolve around the magazine, the Arlesian exhibition included. Moreover, Cattelan's artistic career cannot be said to be certainly alien to the passion in this direction. Nor indeed the thing in itself we dislike. To leave us a bit perplexed, if anything, is the delicate balance between the desire to amaze and provocation. That is, I find it hard not to ask myself, in the presence of these images, to what extent is clear the horizon along which everything moves. The same phase edition, which comes with high level blow ups of a spectacular nature, cannot but make me ask to what extent the operation is not made to please the public, delighting them with special effects that offer easy fulfilment based on sesquipedalian dimension and high-sounding content, even though of dubious decoding.
During the visit at the exhibition Toiletpaper curated by Maurizio Cattelan and Pierpaolo Ferrari. © FPmag.
Speaking of content, the subtle pleasure of doubt remains in the air, in line with that previously given. The basically ambiguous way in which the work is proposed in all its aspects seems in fact to offer the right to any interpretative position. The unresolved ambiguity of photographic images intended as bearers of a message remains and is enhanced, opening up to totally opposing even readings in which, depending on one's personal thought, you can read a critical level against some manifestations of our times rather than, on the contrary, the satisfaction with the status quo.
That said the judgment of this exhibition might appear up until here only critical. On the contrary, even though I feel an unconcealed distrust of the operation as a whole, I cannot help but appreciate the ability that everything has had to move reflections ranging from social to that which investigates the status of the medium. Even if it must be said that the satisfaction on the part of the authors is evident and that after all, the conclusions you arrive at are certainly not revolutionary. [ Sandro Iovine ]


- - -
TOILETPAPER
by Marizio Cattelan & Pierpaolo Ferrari
Parc des Ateliers, 35 Place de la République - Arles (France)
4 luglio – 25 settembre 2016
opening times: daily, 10 am - 7,30 pm
admission fee: free entrance
– – –
[ INTERNAL RESOURCES ]
◉ [ FPtag ] ARLES2016: the point of view of the Editorial staff
◉ [ events ] Rencontres d'Arles 2016: preview
◉ [ exhibitions ] Fabulous Failures
◉ [ exhibitions ] End. by Eamonn Doyle
◉ [ exhibitions ] Tear My Bra
◉ [ FPtag ] ARLES2015: the point of view of the Editorial staff on the 2015 edition
[ EXTERNAL RESOURCES ]
◎ Maurizio Cattelan
◎ Pierpaolo Ferrari
◎ Toiletpaper Magazine
◎ Les Rencontres d'Arles 2016