Fabulous Failures
Fabulous Failures is one of three exhibitions gathered together in the section Rereading of Les Rencontres d'Arles 2016. An exhibition designed to bring out the expressive and creative potentiality of technical mistakes, formal imprecision, of involuntary imperfection, and capable of suggesting at the same time, with lightness and irony, a number of important considerations on both the society in which we live and current achievements and possible misuses of the photographic medium and, more generally, of the visual arts.
The exhibition – located on the second floor of the Palais de l'Archevêché and realised thanks to the support of Olympus and the Fonds Mondriaan – indeed carries the unmistakable imprint of its curator, Erik Kessels, artist, collector and influential creative Dutchman, founder of the advertising agency and publishing house KesselsKramer, and therefore lends itself easily to various types of readings, stratified on various levels.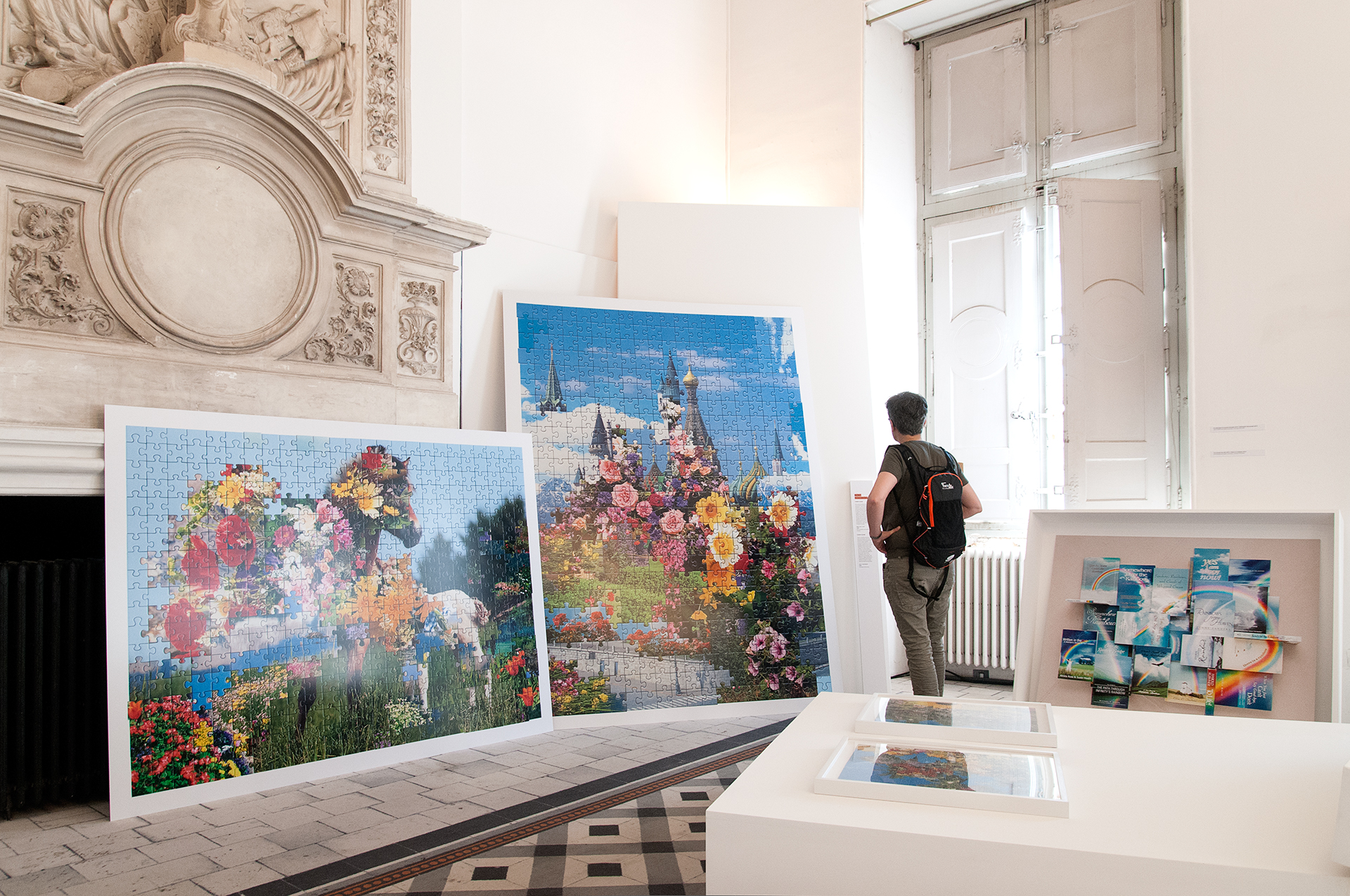 During the visit to the exhibition Fabulous Failures curated by Erik Kessels. © Stefania Biamonti/FPmag.
It is possible to stick to a first level of analysis, and simply smile in front of this large selection of bizarre and wacky failed experiments, appreciating the apparent involuntary creativity and / or the ability of the artist or the curator to recognise it. Doing so, however, you may lose a good part of the concept of the exhibition. The itinerary suggests the possibility of going beyond this kind of reading, thanks above all to the careful work of re-contextualisation, re-organisation and re-reading of this cluster of mistakes carried out by Kessels. It is enough to concentrate on the choices made, on combinations, cross-references and details of the setup to intercept the strands of an investigation and of a criticism, far more subversive and interesting, on that aestheticism process and formal search for perfection to which, new technologies are accomplice, they appear nowadays to tend to the most part of good authorial practices.
For as explained by the same Kessels in the written presentation of the exhibition, «Nowadays most art, design and photography portrays perfection. Contemporary popular culture is drowning under a tidal wave of superficiality and over-perfection. Posed, polished and controlled. As if it were a reflection of our endless search for clarity and calmness and an antidote for the chaos in our lives. [...] In our perfection-obsessed culture we shy away from errors and that is, in my humble opinion, a disaster. Luckily failing is something artists and photographers more and more take as a subject for their work. This exhibition shows a large overview of the best fabulous failures found in contemporary art, design and photography, made by a group of artists that like to fight perfection, embrace serendipity and search for fabulous failures».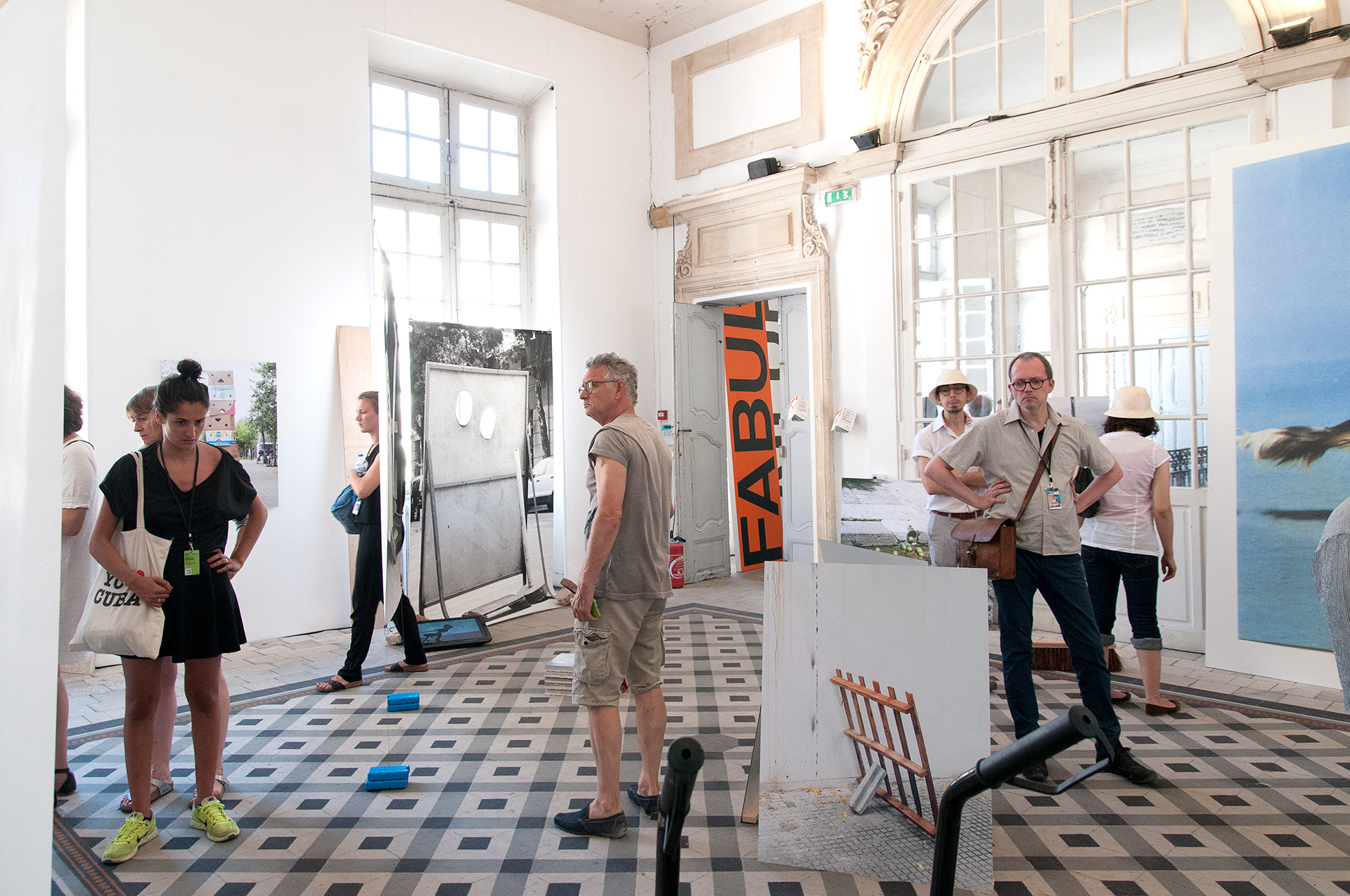 During the visit to the exhibition Fabulous Failures curated by Erik Kessels. © Stefania Biamonti/FPmag.
In short, what is normally considered a failure and then hidden, corrected, or even cancelled, for these artists becomes or something to put on display, or valuable raw material for even more sophisticated and complex narratives. It is not the work in itself that is in fact significant in these last cases, as much as its decontextualisation, re-classification and re-interpretation according to other unexpected canons and parameters. This allows a layering of a herald of further interpretations and new meanings, in which even the mistake finds its place, becomes significant, opening the door to a much wider reflection on the medium that characterise our society and the use we make of it.
Moreover, as already explained in the book the Brief History of Photographic Mistakes of Clément Chéroux about mistakes in photography, if it is true that the mistake, imperfection, can become a fascinating creative and narrative element, it is equally true that it can also become a useful cognitive tool: it is in its mistakes, in its unexpected and in its slip that photography, as every other medium, lays bare, allowing a more detailed analysis of its nature. [ Stefania Biamonti ]
- - -
FABULOUS FAILURES.
THE ART OF EMBRACING SERENDIPITY AND MISTAKES
curated by Erik Kessels
Palais de l'Archevêché, 35 Place de la République - Arles (France)
4 July – 25 September 2016
opening times: daily, 10 am - 7,30 pm
admission fee: 9,00 € (reductions and cumulative tickets)
– – –
[ INTERNAL RESOURCES ]
◉ [ FPtag ] ARLES2016: the point of view of the Editorial staff
◉ [ events ] Rencontres d'Arles 2016: preview
◉ [ exhibitions ] End. by Eamonn Doyle
◉ [ exhibitions ] Tear My Bra
◉ [ FPtag ] ARLES2015: the point of view of the Editorial staff on the 2015 edition

[ EXTERNAL RESOURCES ]
◎ KesselKramer
◎ Les Rencontres d'Arles 2016