End. by Eamonn Doyle
End. by Eamonn Doyle is one of the five exhibitions proposed by the Street section of Les Rencontres d'Arles 2016. An exhibition that is worth a visit just for the set up it offers.
On entering the rooms on the second floor of the Espace Van Gogh in fact we find ourselves immersed in prints of various sizes, often mammoth-size, that are now showing the coming and going of people, now ordinary people taken in different situations, sometimes to paradoxical limits, now only faces and bodies surprised, astonished, almost torn from the flow of an ambiguous everyday life, impossible to decipher all the way. Humanity varied and diverse rearranged and recomposed in diptychs or mosaics of large prints, which together refer to the visual hubbub (and not only) of a hypothetical metropolis, of the city par excellence, suggesting different paths to follow.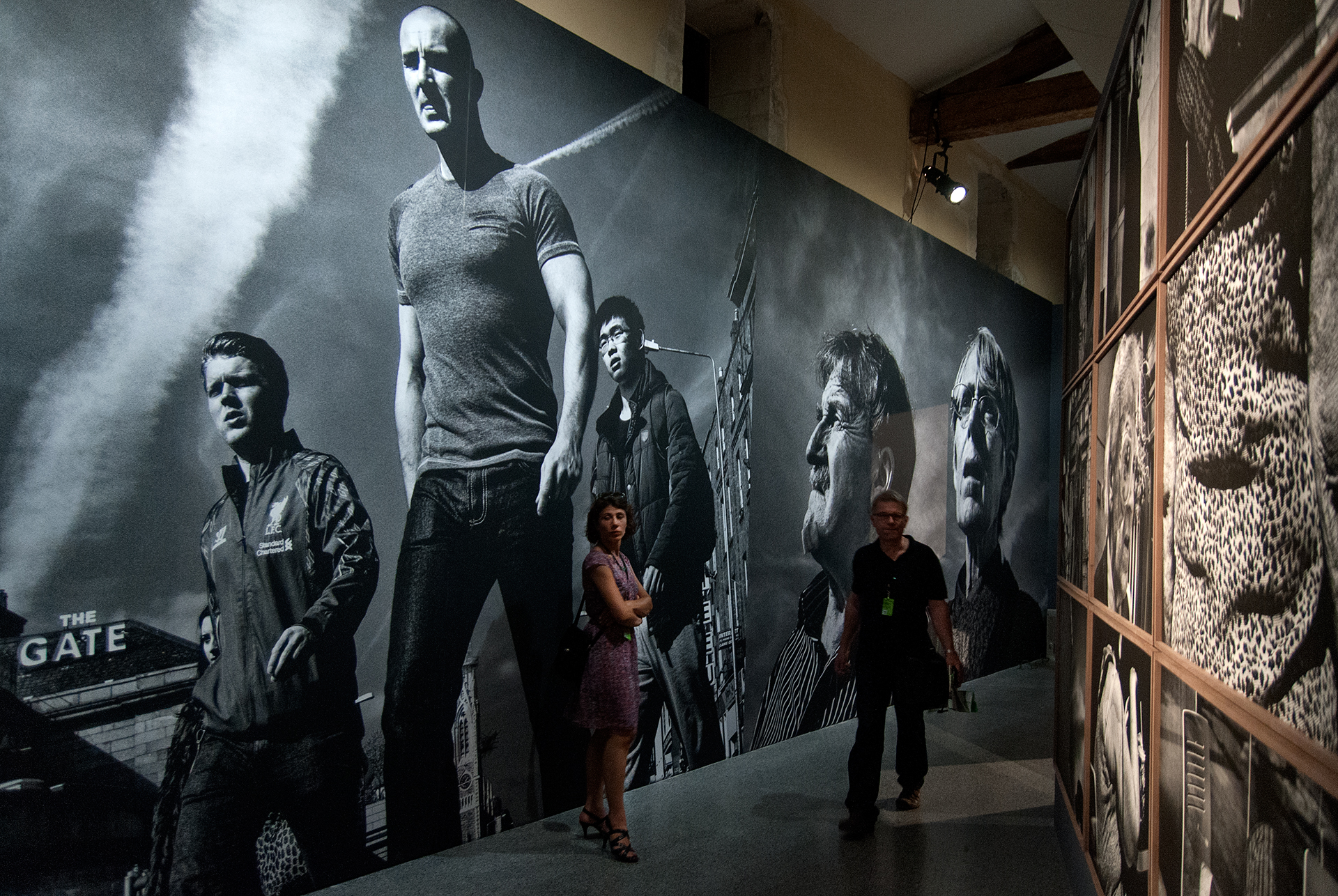 During the visit to the exhibition End. by Eamonn Doyle. © Stefania Biamonti/FPmag.
Who are all those people? Where are they going? And why are they sometimes alongside seemingly insignificant details of urban landscape? These are some of the questions that arise continuing the visit. However, the deeper you dig in to the heart of the exhibition, the more your gaze is freed from any expectations whatsoever and you abandon yourself to the sound of the notes echoing in the background, the more it becomes clear that these are not the right questions to ask.
The exhibition curated by Niall Sweeney seems to present itself not only to put the visitors in front of a wide selection of images taken over time by the Irish photographer – all taken from the trilogy made up from the i, ON and End series –, but also allows them to interact at various levels with that, which the further you go ahead the more you understand it to be a real installation, and to become in some moments even physically part of it (see photo below).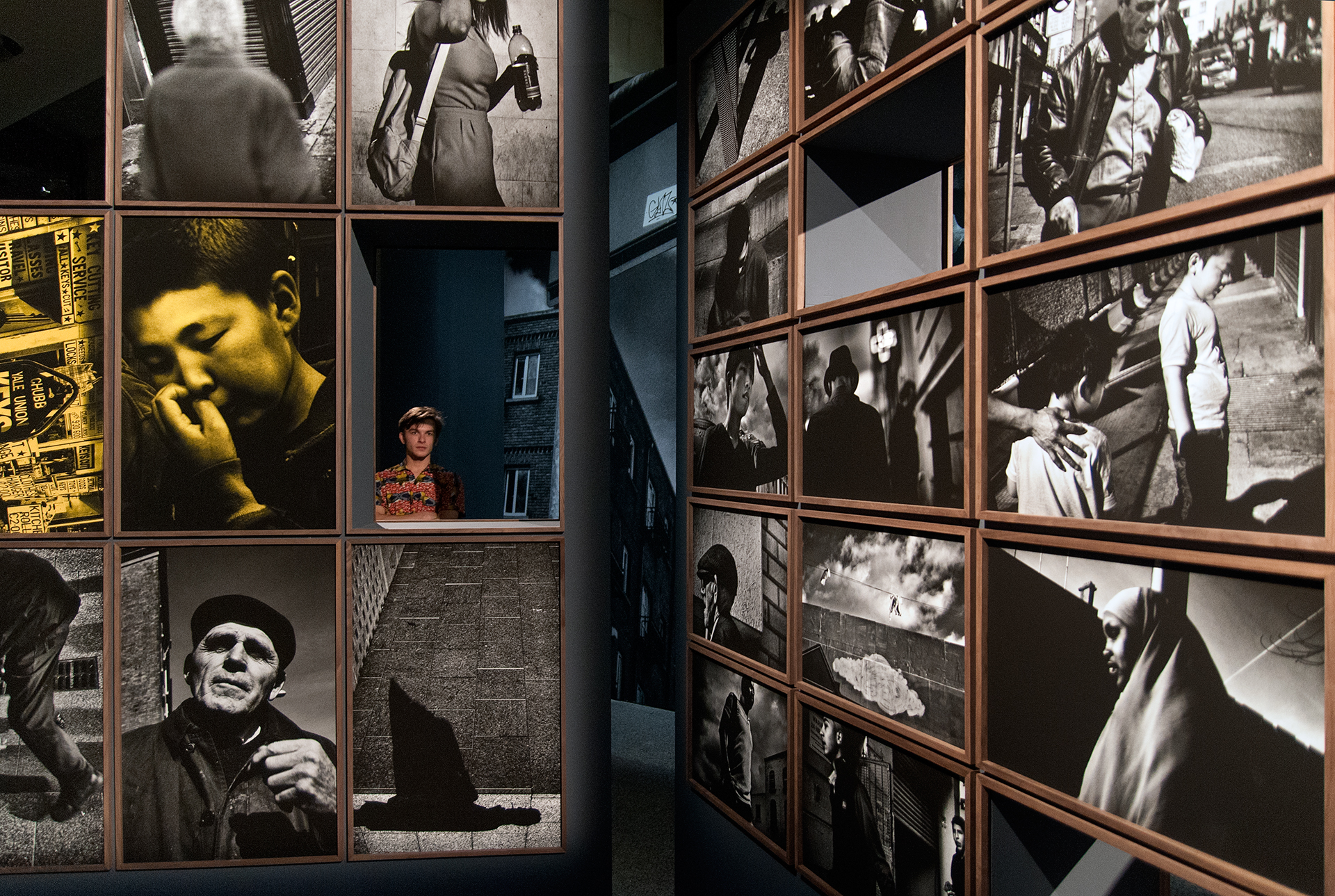 During the visit to the exhibition End. by Eamonn Doyle. © Stefania Biamonti/FPmag.
Seen in this light, the visual experience is even more intense. The silent procession of men and women, of young people and elderly, of faces and of bodies that pile up in the eyes in a seemingly chaotic way leave at the exit the feeling of having witnessed a kind of dramatisation of everyday. A silent choreography, to the limit of improvisation, in which everybody plays a role and in which each role is essential to the existence of the other, even that of the viewer.
It is therefore not on the individual images that determine the sense of this exhibition – however much appreciable they are in many respects – but in its ability to give a glimpse of the song and dance dimension of everyday that our eyes often pick up, but that the mind just as often struggles to elaborate, recognise and to unscramble in their own, personal, scenario of reality. [ Stefania Biamonti ]
- - -
END.
by Eamonn Doyle
Espace Van Gogh, place Félix-Rey - Arles (France)
4 July – 25 September 2016
opening times: daily, 10 am - 7,30 pm
admission fee: 12,00 € (reductions and cumulative tickets)
– – –
[ INTERNAL RESOURCES ]
◉ [ FPtag ] ARLES2016: the point of view of the Editorial staff
◉ [ events ] Rencontres d'Arles 2016: preview
◉ [ exhibitions ] Tear My Bra
◉ [ FPtag ] ARLES2015: the point of view of the Editorial staff on the 2015 edition

[ EXTERNAL RESOURCES ]
◎ Eamonn Doyle
◎ Les Rencontres d'Arles 2016