Snapshots of a utopia
Can you photograph a utopia? Francesco Comello has tried and with his work Isle of Salvation won over the jury of the World.Report Award | Documenting Humanity 2016, triumphing in the Spot Light Award category, always reserved for emerging photographers.
Isle of Salvation in fact outlines the profile of a small Russian community founded in the nineties by an Orthodox priest, and grew silently on the outskirts of Moscow thanks to the ability of its members to find strength, reason and comfort in God's word. A community founded originally to bring together about thirty people who wished to live in full respect of the principles of the Gospel, but later transformed over time into something else, into something more like a spiritual, educational and cultural Centre, able to accept and grow in the shade the faith and love of their homeland hundreds of often problematic boys and girls.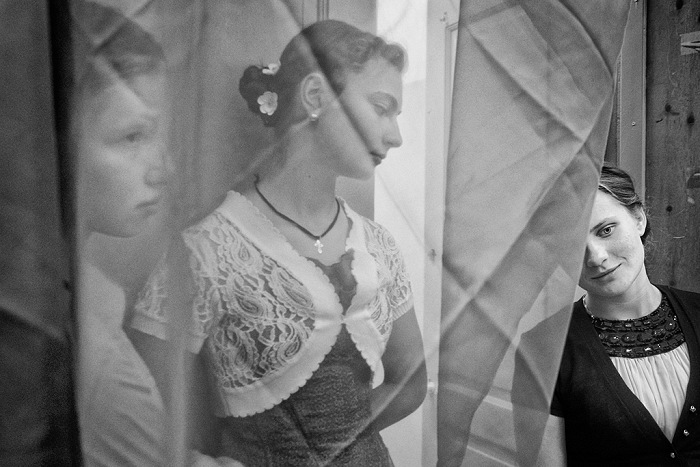 Autumn ball. For the occasion girls have cut and sewn their cloths. From the serie Isle of Salvation by Francesco Comello, winner of the World.Report Award 2016, Spot Light Award category. © Francesco Comello.
The Isle of Salvation photographed by Francesco Comello represents, therefore, something of an anomaly for the Russian nation. Here there are no phones, TV or money. Nor traffic. Here time is marked by the seasons, by the slow rhythm of harvesting and sowing, by the reassuring alternation of light and dark. Here the mind, body and soul are fed and strengthened with the same intense rigour. Here you cultivate and raise animals. Here you pray and study. Here you sing and dance. And you train. The Isle of Salvation is an «educational utopia out of the world, yet immersed in history – Comello writes in the introduction to the exhibition presenting the work at Palazzo Barni in Lodi during the Festival of Ethical Photography – where everybody's commitment to individual transformation andharmonious growth, keeps hope alive». The hope of a different life, of a redemption that, maybe, by just moving away from the racket of modernity can still be glimpsed. Right? It is not for us to decide.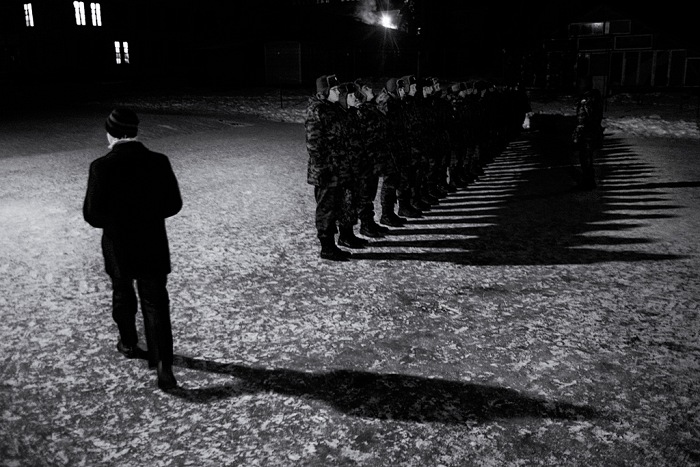 At night, after serving dinner at the canteen, roll call is done for those who attend the military Academy inside the community. A strict physical, moral and intellectual discipline is required. No education is to be considered complete if it doesn't include this element. From the serie Isle of Salvation by Francesco Comello, winner of the World.Report Award 2016, Spot Light Award category. © Francesco Comello.
Hope and redemption are words often misunderstood in the modern world, as much as the concepts that underlie it. We run too fast to fully understand. They are complex nouns, with layers of meaning in the centuries that require an investment of time and study that we are no longer willing to accept. To try to gently touch the deepest sense, therefore, we must continually go back, look towards existences now vanished into oblivion. Or take a step to the side, and try to perceive the feelings of those who try to take an alternative route to grasp at. And that is what Francesco Comello seems to have done observing for years, with an open heart, this particular Russian community.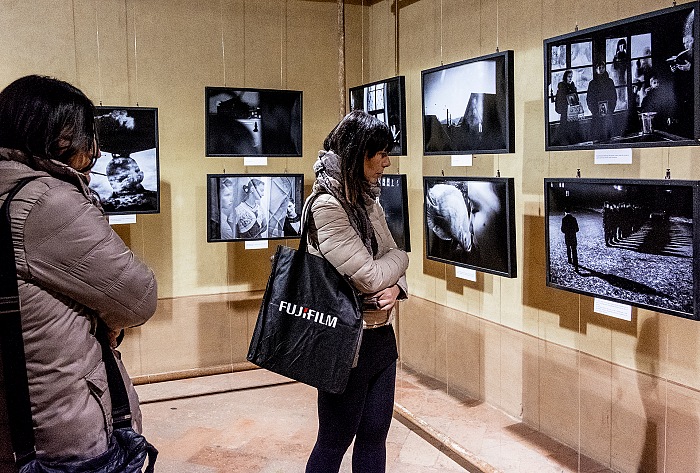 During the visit to the exhibition Isle of Salvation by Francesco Comello, winner of Spot Light Award category of World.Report Award 2016. © FPmag.
In his work in fact is felt a kind of diachronic fracture. The flow of time is suspended, and the reality represented crystallized in a past that is not past. In a full and vivid present that does not become anything more. It sounds like a speech around the nature of photography, but it is really just an attempt to describe the particular connotation taken from the temporal dimension in Francesco Comello's images. His is an evocative time, a temporal vertigo in which the spectre of a certain romantic poetry is reconstructed and remodelled in photographic form. Accomplice the black and white and the very essence of the story told, the images are so rarefied, almost dreamlike, more powerful for what it does not say than for what they show and say.
Can you photograph a utopia? Maybe so... Moreover, as explained by the same author in the video published at the beginning, we are not talking about photojournalism. [ Stefania Biamonti ]


- - -
ISLE OF SALAVATION
by Francesco Comello
Palazzo Barni, corso Vittorio Emanuele II, 17 - Lodi (Italy)
8 – 30 October 2016
admission fee: 12,00 € (for all exhibitions)




The video interview with Francesco Comello and the exhibition photograph were realised with equipment made available by Fujifilm Italy.


_ _ _
[ INTERNAL RESOURCES ]
◉ [ FPtag ] Festival of Ethical Photography 2016: the editorial staff point of view
◉ [ meltingpot ] Fujifilm Italia and the culture of the image
◉ [ exhibitions ] The Ku Klux Klan by Peter Van Agtmael
◉ [ video ] A project for schools: interview with Laura Covelli
◉ [ video ] The confirmation of an ethics: interview with Alberto Prina
◉ [ events ] Festival of Ethical Photography 2016
◉ [ contest ] World.Report Award 2016: the winners
◉ [ contest ] World.Report Award 2016: finalists
◉ [ contest ] World.Report Award 2016: rules
◉ [ FPtag ] Festival of Ethical Photography 2015: the editorial staff point of view

[ EXTERNAL RESOURCES ]
◎ Festival of Ethical Photography
◎ Gruppo Fotografico Progetto Immagine
◎ Fujifilm Italia