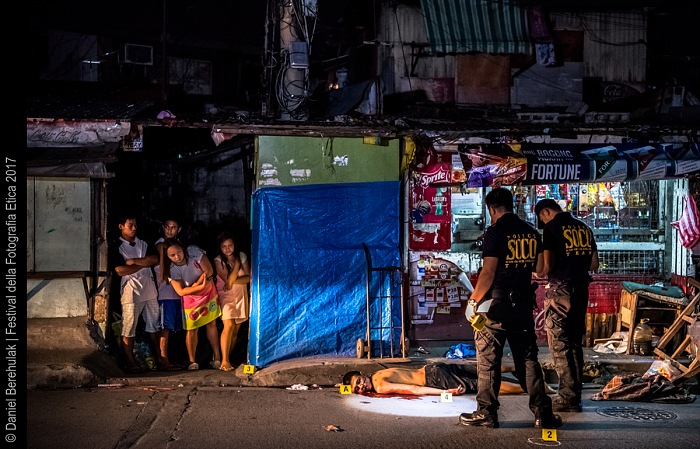 Daniel Berehulak, from the reportage They Are Slaughtering Us Like Animals, winner of the Master Award section of the Word.Report Award 2017 | Documenting Humanity. © Daniel Berehulak.
CONTEST
World.Report Award 2018
Expires May 3rd, 2018 the deadline to participate in the eighth edition of the World.Report Award | Documenting Humanity. Two new sections and € 17,000 in cash prizes
more...
CONTEST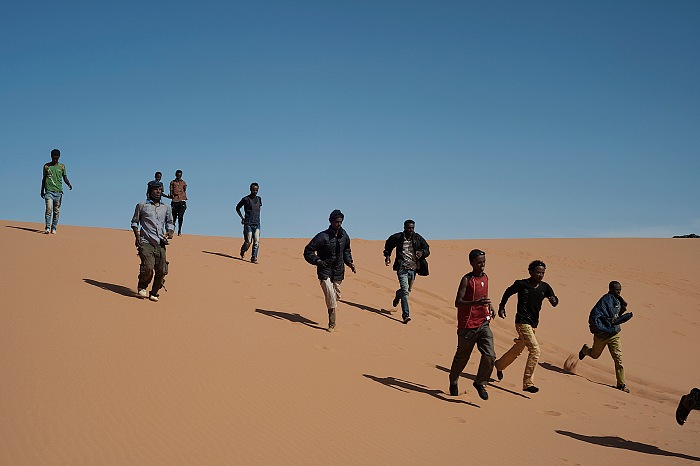 Master Award, From There to Here. Immigration in the time of Fortress Europe by Giulio Piscitelli. Sahara desert, Libya, Border with Egypt, May 18th, 2014. Refugees crossing the desert and found in the desert by a local militia after 3 days of trip without water. In the area there aren't no NGO's or humanitarian groups that could help the refugees that almost everyday arrive from the desert, often injured or precarious health conditions. The militia found 3 vehicles with 85 refugees coming from Sudan and directed to Libya, stuck in the desert because of problems with the tires. In the picture the refugees run on the sand to reach one of the van that has restarted the trip after the repair of the tires and engine. The Sahara Desert, unites the sub-Saharan Africa, with the Maghreb countries. It is crossed by immigrants, mostly from East Africa and in particular political refugees, mostly from the Horn of Africa. The crossing of the Sahara is done with trucks, entrusted to criminal organizations involved in human trafficking. During the journey the passengers suffer the violence, by different kinds of militias much present in those territories (Libya, Chad, Sudan), and sometimes by the same smugglers who organize the trips. Over the past decade, at least 1,594 people have lost their lives crossing the Sahara, according to estimates of the site Fortress Europe. © Giulio Piscitelli/Contrasto.
WRA Master Award: the winner is Giulio Piscitelli Here are the winners of the fifth edition of the World.Report Award | Documenting Humanity
CONTEST
World.Report Award - Premio Italiano di Fotogiornalismo 2014, Master Award category: Life in War by Majid Saeedi.
Buzkashi Square, Mazar Sharif City, Nord dell'Afghanistan. © Majid Saeedi.
World.Report Award - Premio Italiano di Fotogiornalismo 2014
categoria Master Award: Life in War di Majid Saeedi

Le motivazioni della giuria
«La giuria riconosce all'autore la capacità di aver realizzato un affresco della società afgana nelle sue molteplici sfumature, raccontando la quotidianità di un paese che è riuscito a mantenere viva la propria cultura e un barlume di normalità nonostante un conflitto devastante. I 10 anni di guerra sono raccontati con una profondità di visione e una capacità di empatia che riescono a presentare la complessa realtà afgana nella sua contraddittorietà, che oscilla da una profonda disperazione a un'altrettanto profonda bellezza. Il lavoro supera quindi lo sviluppo classico del racconto reportagistico e diventa la storia per immagini di un'intera civiltà».
WRA: Fifth Edition Expires May 18th, 2015 the deadline to participate in the fifth edition of the World.Report Award
FPmag
editor in chief Sandro Iovine | sandro.iovine@fpmagazine.eu - senior writer Stefania Biamonti - web developer Salvatore Picciuto | info@myphotoportal.com - linguistic coordination Nicky Alexander - translations Nicky Alexander, Rachele Frosini - contributor Davide Bologna, Mimmo Cacciuni Angelone, Laura Marcolini, Stefano Panzeri, Pio Tarantini, Salvo Veneziano - local Lazio correspondent Dario Coletti local Sardinian correspondent Salvatore Ligios - local Sicilian correspondent Salvo Veneziano - editorial office via Spartaco, 36 20135 Milano MI | redazione@fpmagazine.eu - phone +39 02 49537170 - copyright © 2015 FPmag - FPmag is a pubblication of Machia Press Publishing srl a socio unico, via Cristoforo Gluck, 3 20135 Milano MI - VAT no. 07535000967 C.F. (TAX code) 07535000967 - Copyright © 2015 FPmag - Registered at Tribunale di Milano No. 281 on the 9th September 2014


ITA - Informativa sui cookie • Questo sito internet utilizza la tecnologia dei cookies. Cliccando su 'Personalizza/Customize' accedi alla personalizzazione e alla informativa completa sul nostro utilizzo dei cookies, cliccando su 'Rifiuta/Reject' acconsenti al solo utilizzo dei cookie tecnici, cliccando su 'Accetta/Accept' acconsenti all'utilizzo dei cookies sia tecnici che di profilazione (se presenti).

ENG - Cookie policy • This website uses cookie technology. By clicking on 'Personalizza/Customize' you access the personalization and complete information on our use of cookies, by clicking on 'Rifiuta/Reject' you only consent to the use of technical cookies, by clicking on 'Accetta/Accept' you consent to the use of both technical cookies and profiling (if any).