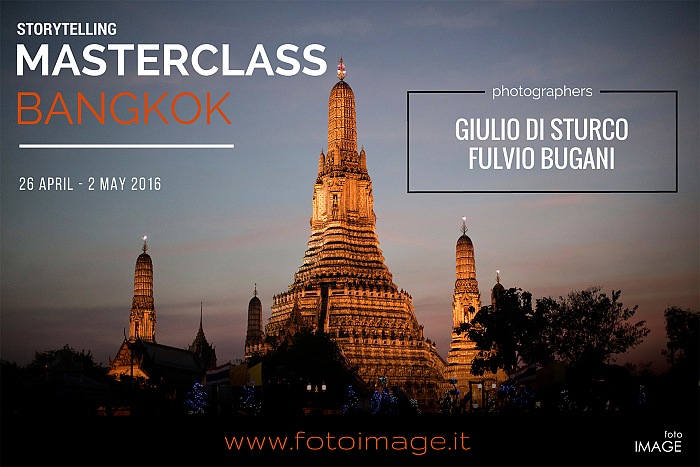 Masterclass in Bangkok
Bangkok, modern capital with incredible contrasts, is the destination of the Masterclass of Storytelling and Reportage organized by Foto Image, from the 26th of April to the 2nd of May 2016.
This fast paced masterclass offers a special opportunity to learn with two major international photographers, Giulio Di Sturco and Fulvio Bugani, both winners of the World Press Photo Awards 2015. Participants will follow an intensive hands-on program, closely guided by their instructors to sharpen their visual skills within their own photographic projects. Through daily group and individual meetings, the instructors will guide each participant individually pushing them further. During the workshop the participants will be given ample space to analyze their photos and to share ideas on how to develop a reportage. Further to the daily meetings organized at the photographic studio of the masterclass in Bangkok, there will be individual shooting sessions with a local fixer and/or one of the instructors. Each participant will have the freedom to explore a topic of interest that is feasible within the week.
The masterclass is open to students of photography, advanced amateurs or professional photographers. More information are available here.
Masterclass of Storytelling and Reportage
Bangkok (Thailand)
26 April – 2 May 2016
deadline: registration open until all the places have been filled
admission fee: 1.200,00 € | 950,00 € before February 15th, 2016
info: info@fotoimage.it
www.fotoimage.it


_ _ _

[ EXTERNAL RESOURCES ]
◎ Giulio Di Sturco
◎ Fulvio Bugani
◎ Foto Image
published on 2016-01-09 in NEWS / WORKSHOP
FotoImage
GiulioDiSturco
more in WORKSHOP


recent news
FPmag
editor in chief Sandro Iovine | sandro.iovine@fpmagazine.eu - senior writer Stefania Biamonti - web developer Salvatore Picciuto | info@myphotoportal.com - linguistic coordination Nicky Alexander - translations Nicky Alexander, Rachele Frosini - contributor Davide Bologna, Mimmo Cacciuni Angelone, Laura Marcolini, Stefano Panzeri, Pio Tarantini, Salvo Veneziano - local Lazio correspondent Dario Coletti local Sardinian correspondent Salvatore Ligios - local Sicilian correspondent Salvo Veneziano - editorial office via Spartaco, 36 20135 Milano MI | redazione@fpmagazine.eu - phone +39 02 49537170 - copyright © 2015 FPmag - FPmag is a pubblication of Machia Press Publishing srl a socio unico, via Cristoforo Gluck, 3 20135 Milano MI - VAT no. 07535000967 C.F. (TAX code) 07535000967 - Copyright © 2015 FPmag - Registered at Tribunale di Milano No. 281 on the 9th September 2014


ITA - Informativa sui cookie • Questo sito internet utilizza la tecnologia dei cookies. Cliccando su 'Personalizza/Customize' accedi alla personalizzazione e alla informativa completa sul nostro utilizzo dei cookies, cliccando su 'Rifiuta/Reject' acconsenti al solo utilizzo dei cookie tecnici, cliccando su 'Accetta/Accept' acconsenti all'utilizzo dei cookies sia tecnici che di profilazione (se presenti).

ENG - Cookie policy • This website uses cookie technology. By clicking on 'Personalizza/Customize' you access the personalization and complete information on our use of cookies, by clicking on 'Rifiuta/Reject' you only consent to the use of technical cookies, by clicking on 'Accetta/Accept' you consent to the use of both technical cookies and profiling (if any).