A poetic look
Un regard poétique (A poetic look) by Shōji Ueda (1913-2000) is one of those exhibitions where the simplicity of the title perfectly sums up the soul of the content offered to the public. Born in a small port town in the southwest of Japan, Sakaiminato, Ueda spends virtually all his life there, except the parenthesis of graduating from the Eastern School of Photography in Tōkyō. The biographical data is not at all irrelevant in the assessment of the exceptional talent of this photographer. His activities are centred around the studio that he opened with his wife in his native town. Despite his professional activity, however, Ueda still considers himself an amateur, as evidenced by his intense activity within the local photographic club. But this amateur photographer produces images in which it is easy to find Magritte as Man Ray, Kertesz rather than Lartigue, who he likes to refer to.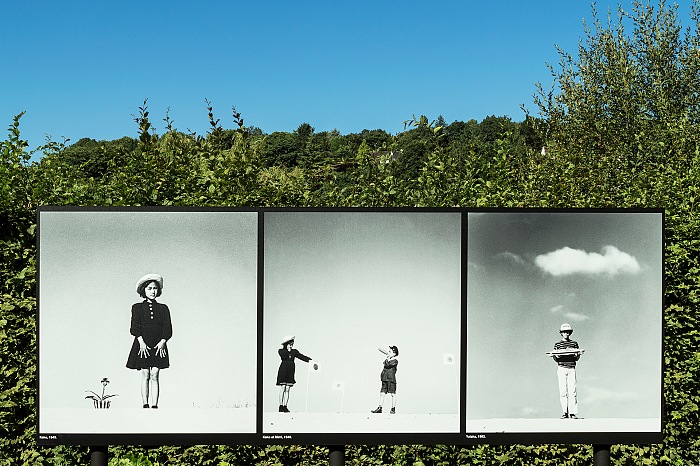 During the visit at the exhibition Un regard poétique by Shōji Ueda. © FPmag.
«I just take the pictures I like. – declared Shōji Ueda – I like to introduce in to natural scenery artificial elements. I like that a slight intervention in the photograph is perceived». In the years between 1949 and 1980, Ueda photographed among the dunes of Tottori, not far from his home. Here he poses his family, friends and neighbours creating suspended atmospheres, imaginary fairy tales for adults. At about 800km away from the turmoil of Tōkyō, he depicts his universe full of poetic candour. The secret of his images seems to be a perfect mix of humour and playfulness tender and innocent, which conquest the spectators taking them inside another universe. The surrealist call is strong, but it is tempered by the good-natured smile that cannot but draw itself on the lips of the spectator at the sight of the photographs of Ueda.
During the visit at the exhibition Un regard poétique by Shōji Ueda. © FPmag.
«The dunes are my studio. – argued Ueda – You cannot find a better background, because the horizon extends to infinity. I would say that the dunes are an almost natural photographic landscape. It is nature, but reduced to a single backdrop». And in the background of the dunes the protagonists of the images are hung on the horizon with thumbtacks, suspended in a dimension that transcends the empirical data to expand into a universe of fantasy more or less born on a thread of in-consciousness.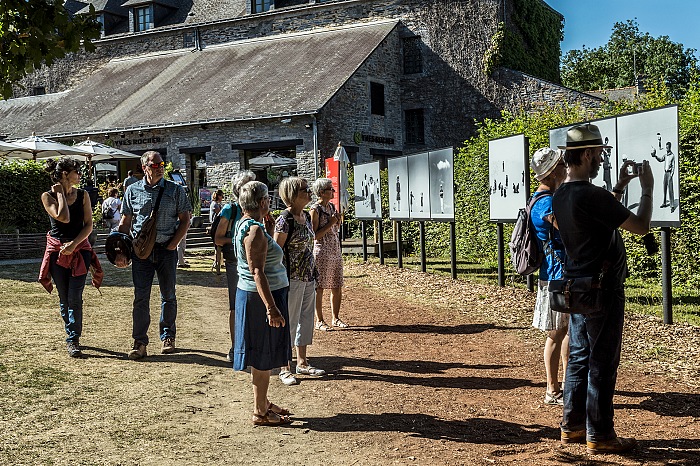 During the visit at the exhibition Un regard poétique by Shōji Ueda. © FPmag.
It is interesting to observe the reactions of the public during the visit to the exhibition. The most common reaction among the visitors has been to stop before the images for a much longer time than I have seen reserved for other exhibitions in the context of La Gacilly, a symptomatic fact of how the images succeed on one part to move a smile, but on the other to penetrate deep inside the soul of the spectator. Much appreciated the curatorial choice to pull together the images outside of a chronological scheme, but inspiring to that regard poétique referred to in the title of the exhibition. [ Sandro Iovine ]


- - -
UN REGARD POÉTIQUE
by Shōji Ueda
Grand Chêne - La Gacilly (France)
4 June – 30 September 2016
Admission fee: free entrance

_ _ _

[ INTERNAL RESOURCES ]
◉ [ FPtag ] LAGACILLY2016: the point of view of the Editorial Staff
◉ [ events ] Photo Festival La Gacilly 2016
◉ [ exhibitions ] Lives under the ice
◉ [ events ] Photo Festival La Gacilly 2015

[ EXTERNAL RESOURCES ]
◎ Shōji Ueda
◎ Festival Photo La Gacilly