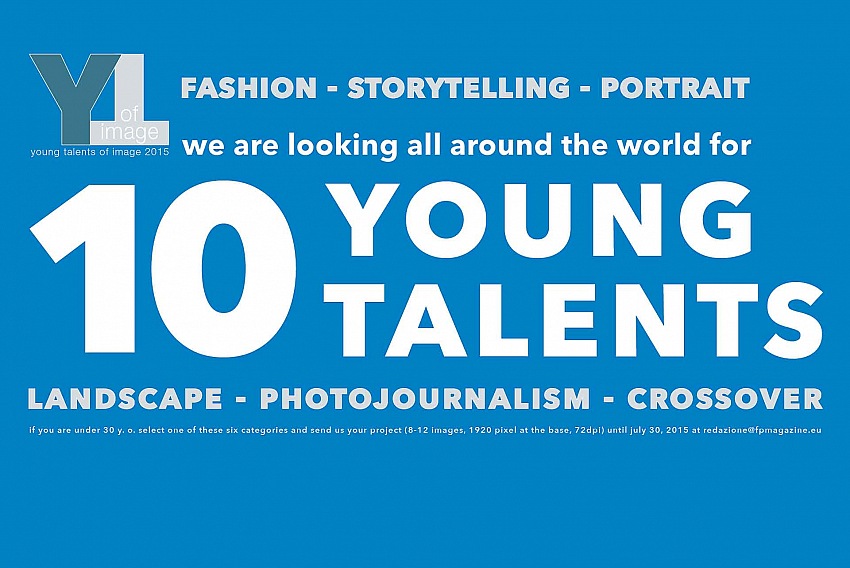 «We are looking for 10 young talents!»
The basis of the project YToI2015 is to find ten new talents, the initiative of the FPmag, which aims to give space to ten young authors who demonstrate a good command of photography in their respective fields.
Young photographers of all nationalities under the age of 30 years (as of 30 July, 2015) are invited to send their projects to FPmag within the following categories: Crossover, Photojournalism, Fashion, Landscape, Portrait and Storytelling. The Crossover category means making room for contemporary photography to have the ability to mix styles and techniques in search of new expressive models capable of dialoguing with the younger generations.
To participate it is necessary to send, by 30 July 2015, the projects (i.e. the works articulated around a narrative and stylistic thematic unit, consisting of 8 to 12 images) to redazione@fpmagazine.eu, please write in the subject line of your e-mail the code YToI2015 and the category you wish to take part in.
The images in the final version (please note that sequencing and post-production will also be evaluated) must be submitted accompanied by full name, nationality, age and address of the author (including a website, if owned), as well as a brief introductory note (of about 600 characters including spaces) explaining the reasons and the line of the project, the project title and captions of the individual shots.
The file name must be made up of a sequence number in three digits (001, 002, 003 etc. - first photo = 001) plus the author's last name. The size of individual files must be 1920 pixels base (regardless of the development in height) with a resolution of 72 dpi.
The projects of the ten young authors selected by the editors of FPmag are final and not challengeable. FPmag will publish these projects free of charge, in a special issue in e-book version both in English and Italian, which will then be distributed for free next autumn.
deadline: July 30th, 2015
registration fee: none
info: redazione@fpmagazine.eu
www.fpmagazine.eu
we use photocontestinsider.com
published on 2015-04-03 in NEWS / YTOI
YToI2015
FPmag
editor in chief Sandro Iovine | sandro.iovine@fpmagazine.eu - senior writer Stefania Biamonti - web developer Salvatore Picciuto | info@myphotoportal.com - linguistic coordination Nicky Alexander - translations Nicky Alexander, Rachele Frosini - contributor Davide Bologna, Mimmo Cacciuni Angelone, Laura Marcolini, Stefano Panzeri, Pio Tarantini, Salvo Veneziano - local Lazio correspondent Dario Coletti local Sardinian correspondent Salvatore Ligios - local Sicilian correspondent Salvo Veneziano - editorial office via Spartaco, 36 20135 Milano MI | redazione@fpmagazine.eu - phone +39 02 49537170 - copyright © 2015 FPmag - FPmag is a pubblication of Machia Press Publishing srl a socio unico, via Cristoforo Gluck, 3 20135 Milano MI - VAT no. 07535000967 C.F. (TAX code) 07535000967 - Copyright © 2015 FPmag - Registered at Tribunale di Milano No. 281 on the 9th September 2014


ITA - Informativa sui cookie • Questo sito internet utilizza la tecnologia dei cookies. Cliccando su 'Personalizza/Customize' accedi alla personalizzazione e alla informativa completa sul nostro utilizzo dei cookies, cliccando su 'Rifiuta/Reject' acconsenti al solo utilizzo dei cookie tecnici, cliccando su 'Accetta/Accept' acconsenti all'utilizzo dei cookies sia tecnici che di profilazione (se presenti).

ENG - Cookie policy • This website uses cookie technology. By clicking on 'Personalizza/Customize' you access the personalization and complete information on our use of cookies, by clicking on 'Rifiuta/Reject' you only consent to the use of technical cookies, by clicking on 'Accetta/Accept' you consent to the use of both technical cookies and profiling (if any).