Daesung Lee wins Prix Voies Off
The jury composed by Attila Durak, Director of FotoIstanbul Festival, Bertrand Meunier, photographer from the collective Tendance Floue, Jorge Alvarez, President of SAIF, and Christophe Laloi, Artistic Director of Voies Off, assigned the Prix Voies Off 2016 to the South Korean photographer Daesung Lee for his work Futuristic Archaeology. The project – which already won the award Happiness On The Move at the Cortona On The Move 2015 festival – is focused on the idea that the lifestyle of the Mongolian population will not be able to survive in the future in any other way than through the memories preserved in museums.
From the project Futuristic Archeology by Daesung Lee, the winner of Prix Voies Off 2016. © Daesung Lee.
Nowadays, around 35% of the population in Mongolia still lives a nomadic life style despite the transformations imposed by the urbanisation in the past few years. The survival of this large chunk of population depends however on the possibility to move in a vast territory. The reality is that in the last thirty years the dry weather has caused the desertification of 25% of the territory available to nomadic populations. Consequently, this has heavily compromised the possibility that this lifestyle, adopted by thousands of people, could be passed to the next generations only as a memory of a past that can only be lived inside a museum.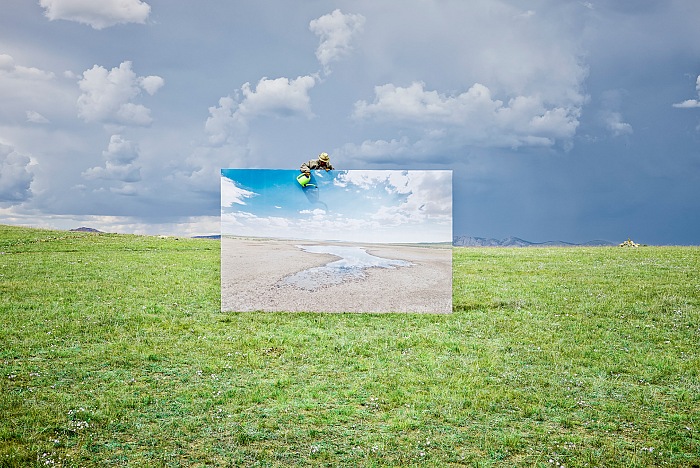 From the project Futuristic Archeology by Daesung Lee, the winner of Prix Voies Off 2016. © Daesung Lee.
Daesung Lee was not the only one to be awarded during Voies Off 2016. The
Prix Révélation SAIF 2016
has in fact been assigned to the French photographer
Thibault Jouvent
for the work
A point of view
, an in depth research on the movement of the gaze and the building of images. The
Prix lacritique.org 2016
has instead been awarded to the Italian
Francesco Giusti
for the project
The Rescue
, that faces the situation of the migrants under a personal point of view capturing pictures of the objects left on the beaches during the migrations. Special mention also from the jury goes to the Dutch
Bas Losekoot
. The five
candidats nominés
were:
Benoît Jeannet
(Switzerland) with
A Geological Index Of The Landscape
,
Lia Darjes
(Germany) with
Being Queer, Feeling Muslim
,
Paolo Marchetti
(Italy) with
The Price of Vanity
,
Sanne de Wilde
(Belgium) with
The Island of the Colorblind
and
Viktoria Wojciechowska
(Poland) with
Sparks.



– – –
[ INTERNAL RESOURCES ]
◉ [ FPtag ] Voies Off 2016: the editorial staff point of view
◉ [ portfolio ] Les Petites filles de Salvatore by Erika Vancouver
◉ [ exhibitions ] Hubert Barre: light, walls and graffiti
◉ [ video ] Palermofoto at Voies Off
◉ [ exhibitions ] Sicily and Marpessa by Ferdinando Scianna
◉ [ exhibitions ] Mariage en Enfer by Giada Connestari
◉ [ contest ] Happiness On The Move 2015: the winner
[ EXTERNAL RESOURCES ]
◎ Voies Off
◎ Daesung Lee
◎ Thibault Jouvent
◎ Francesco Giusti
◎ Bas Losekoot
◎ Benoît Jeannet
◎ Lia Darjes
◎ Paolo Marchetti
◎ Sanne de Wilde
◎ Wiktoria Wojciechowska