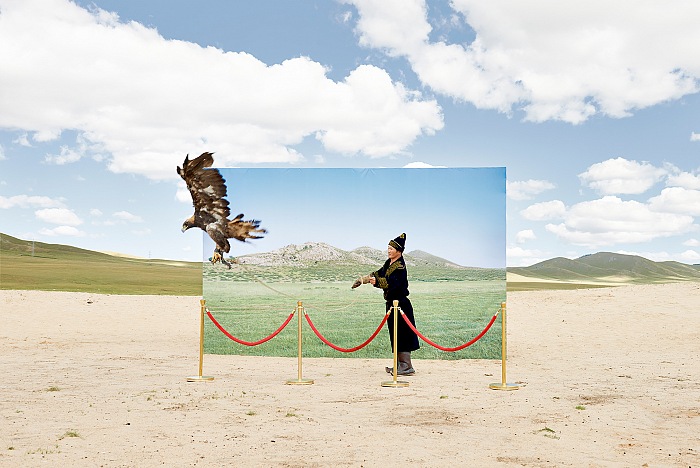 1 / 3 © Daesung Lee.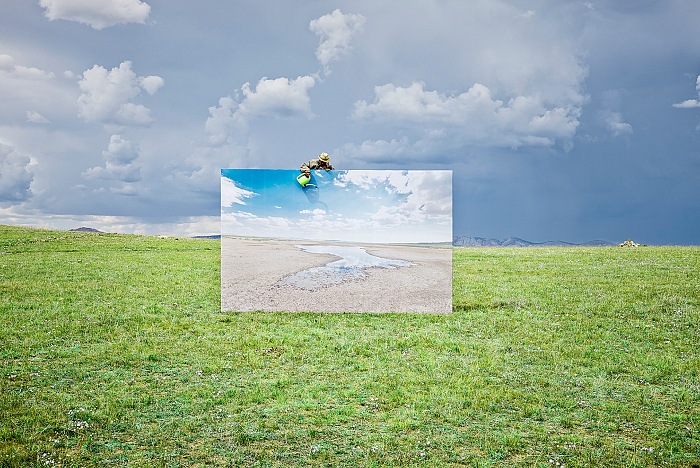 2 / 3 © Daesung Lee.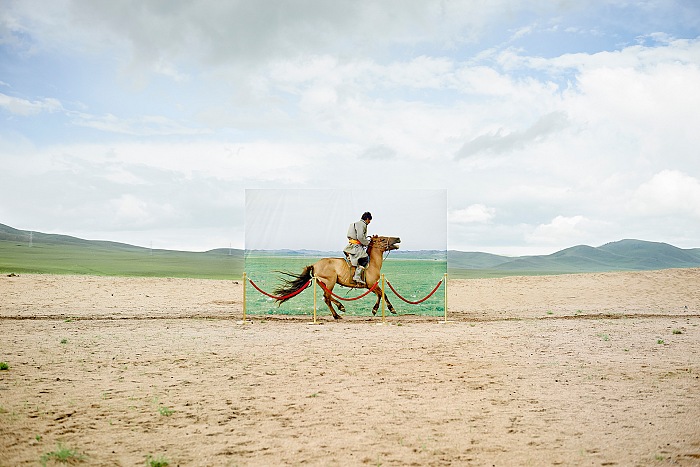 3 / 3 © Daesung Lee.
Happiness On The Move 2015: the winner
The Korean photographer Daesung Lee wins the fourth edition of the International award Happiness On The Move with Futuristic Archaeology.
The jury of the Happiness On The Move award 2015, composed by some of the world's top photo editors, has selected Daesung Lee's work amongst 1600 others submitted from every corner of the world. «Daesung Lee, with an aesthetics that mixes documentary photography and mise en scene – as motivated by the jury – offers us a very original and effective representation of reality, and in a poetic way it puts us in front of the issue of environmental protection. A very strong concept that mixes a vision of the past with a forecast of the future, is the strength of this work. Daesung deals with the issue of uncertainty experienced by the nomadic people in Mongolia, through images in which formal beauty attracts so much impeding an immediate reading of the context: the observer, at a first glance, isn't able to understand the symbols that he is observing. Yet it's powerful and fascinating».
The award winning project is dedicated to the desertification process in Mongolia and will be produced and exhibited during the 2016 edition of Cortona On The Move. Deasung Lee will be awarded in Cortona by Giovanni Busi, the president of the Consortium Vino Chianti on Saturday July 18th 2015 at Palazzo Casali in Cortona (h. 11 pm).
The International Award Happiness On The Move 2015 is organized by the festival Cortona On The Move together with the Consortium Vino Chianti like last year.
- - -
HAPPINESS ON THE MOVE/FELICITÀ IN MOVIMENTO
AWARD CEREMONY
Palazzo Casali, Cortona | 11,00 pm
admission fee: libero
published on 2015-07-17 in NEWS / CONTEST
COTM
COTM2015
DaesungLee
more in CONTEST


recent news
FPmag
editor in chief Sandro Iovine | sandro.iovine@fpmagazine.eu - senior writer Stefania Biamonti - web developer Salvatore Picciuto | info@myphotoportal.com - linguistic coordination Nicky Alexander - translations Nicky Alexander, Rachele Frosini - contributor Davide Bologna, Mimmo Cacciuni Angelone, Laura Marcolini, Stefano Panzeri, Pio Tarantini, Salvo Veneziano - local Lazio correspondent Dario Coletti local Sardinian correspondent Salvatore Ligios - local Sicilian correspondent Salvo Veneziano - editorial office via Spartaco, 36 20135 Milano MI | redazione@fpmagazine.eu - phone +39 02 49537170 - copyright © 2015 FPmag - FPmag is a pubblication of Machia Press Publishing srl a socio unico, via Cristoforo Gluck, 3 20135 Milano MI - VAT no. 07535000967 C.F. (TAX code) 07535000967 - Copyright © 2015 FPmag - Registered at Tribunale di Milano No. 281 on the 9th September 2014


ITA - Informativa sui cookie • Questo sito internet utilizza la tecnologia dei cookies. Cliccando su 'Personalizza/Customize' accedi alla personalizzazione e alla informativa completa sul nostro utilizzo dei cookies, cliccando su 'Rifiuta/Reject' acconsenti al solo utilizzo dei cookie tecnici, cliccando su 'Accetta/Accept' acconsenti all'utilizzo dei cookies sia tecnici che di profilazione (se presenti).

ENG - Cookie policy • This website uses cookie technology. By clicking on 'Personalizza/Customize' you access the personalization and complete information on our use of cookies, by clicking on 'Rifiuta/Reject' you only consent to the use of technical cookies, by clicking on 'Accetta/Accept' you consent to the use of both technical cookies and profiling (if any).