Revelations at the bus stop
It is hot in Perpignan. It is the first Sunday in September, shortly after 19.00. Varietés bus stop. The working day of the FPmag editorial team at Visa pour l'Image is over, but the number 4, the line that takes us back to our accommodation near the Lycée Maillol stop, gives no sign of appearing. To pass the time all we can do is look at the advertising board rolling over on the side of the shelter from where the buses arrive. There stands out the pale face and curly-hair of a boy, who would like us to believe smart, with his high-calorie orange flavoured soft drink in his hand. The writing below the advertising elicits a bitter smile: "For your health do not nibble between one meal and another." How sweet! They care about our health while they invite you to buy a drink whose sugar content meets the caloric needs of a human being for one week...
The roller rotates. Still a man's face, but the joy has gone. The expression, a deep frown, is that of one who has an important role. The skin that emerges from an army uniform is dark and the headline reads, in a rhetorical triumph, «Je veux aller de l'avant pour que la liberté ne recule jamais» (I want to act resolutely so that freedom should never step aside). It is a poster for the recruitment of 15,000 units in the French army. Opération sentinelle they call it. The roller turns again and the alleged clever boy reappears with the orangeade in his hand. A cycle, which is repeated twenty-four hours a day for the privilege of the passers-by and the passengers waiting for the bus. It moves constantly from carefree happy youth a bit of a good for nothing to the detailed seriousness of a man conscious of doing something important. From the whiteness of Caucasian skin to the blackness of an African skin. From a look that would like to (unsuccessfully) appear smart in two eyes (not very bright) in which passively lingers a sense of destiny burdened with responsibility. It is probably pure coincidence that these two advertisements roll consecutively at a bus stop, but less accidental it seems to me that it may be the fact that a young black man iconically represents the world of the lower military forces, while a young white skin embodies the gay adolescent thoughtlessness.
Perpignan, Varieties bus stop, Sunday 4th September 2016. © FPmag.

One that certainly is a coincidence in fact puts into light a division of roles that totally contradicts the principles of democracy and equality that should be the basis of French law. Without the majority being aware of it, this type of advertising subtly redefines the social spaces and assigns roles, digging in the conscience like a silent and implacable drop. They do not need coercion or imposition. Just... just propose continuous right models through transverse channels, while apparently pursuing other purposes like selling a commercial product. If it seems excessive, try to watch the video that was filmed quickly and a little clumsily at the Varietés stop and here above in loop*. Do this for a few minutes and try to imagine what affect a repetition of this kind can have on defenceless minds for age and / or cultural reasons. And do not forget that, by the mere fact that you are reading, you are already on alert and biased. Not to mention that if you arrived on this page, you are probably in possession of appropriate antidotes to filter subtexts (a fairly explicit reality) like posters of this kind. Look at them: they are not selling you just a job or a can of soda. They are showing you how you have to see the world. And I will not dwell on the analysis of texts that on the one hand suggest you talk to your Fanta – or rather implicitly deprive you of the gift of free-thinking – and from the other they encourage you to act, to get ahead, while with a bulky writing they put you into the background as if to indicate that individualism counts for nothing or little more.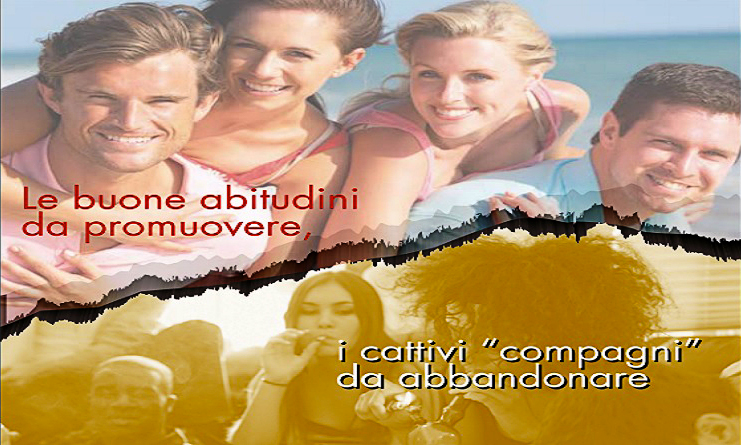 A detail of the poster for the Fertility Day 2016, withdrawn following the controversy and accusations of racism that it sparked.
It is sad to see that all this happens in France, a nation that has made freedom and equality principles inherent to its very existence. Of course it is sad, but in Italy we should not feel superior. Just think of communication products such as the posters for the Fertility Day 2016 where good examples (Good habits to be promoted) are outlined with white subjects, while the negative examples (the bad guys "companions" to be abandoned) see black subjects intent on smoking a joint dominating the scene. And yet I do not want to dwell on the meaning of those quotation marks before and after the noun companions, with all its polysemic value. Someone has praised the naivety of those who produced this poster. But it may not be as well to overlook the possibility that this is not ineptitude and naivety. It is only a hypothesis of course, and most importantly full of sinister behindology (conspiracy).
At least until that time it does not show us the opposite. [ Sandro Iovine ]



--------------------------------------------
(*) - Who is using a mobile device, must start the video manually and cannot make use of the loop.

– – –
[ EXTERNAL RESOURCES ]
◎ Je veux aller de l'avant pour que la liberté ne recule jamais (download pdf)