Mega Mecca, the other face of Islam
To speak about Islam today is particularly difficult in the light of international news. The risk as a minimum of being misunderstood, is huge, yet there are those who have the courage to do it. In my opinion, they deserve a round of applause Luca Locatelli, author of Mega Mecca, Arianna Rinaldo, the artistic director of Cortona On the Move. To the first goes the credit of having had the curiosity to investigate a reality of which everybody believes to know how much it is necessary, often confusing the plans and tarring everybody with the same brush. To the second, however, must be recognised the ability and the courage to face in an intelligent way and not predictable issues which with each passing day become more pressing.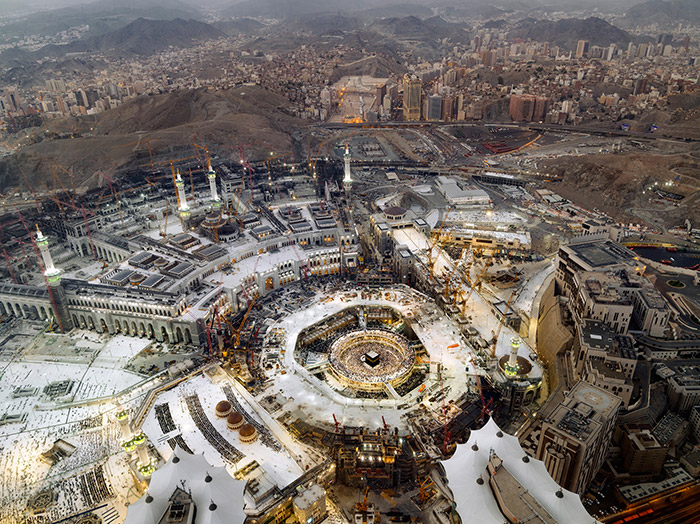 From the exhibition Mega Mecca by Luca Locatelli. © Luca Locatelli/Institute for The New York Times.
What Locatelli shows us is not the appearance of religiosity, but rather the world that surrounds it and around it moves. That the Mecca is a place of worship everybody takes for granted without necessarily being Muslims. What we usually tend not to consider, however, is that around this place does not move only faith, but also an impressive economic system. The pilgrimage that every good Muslim should perform at least once in their lifetime is, certainly, an event linked to religion, but inevitably ends up also moving economic mechanisms.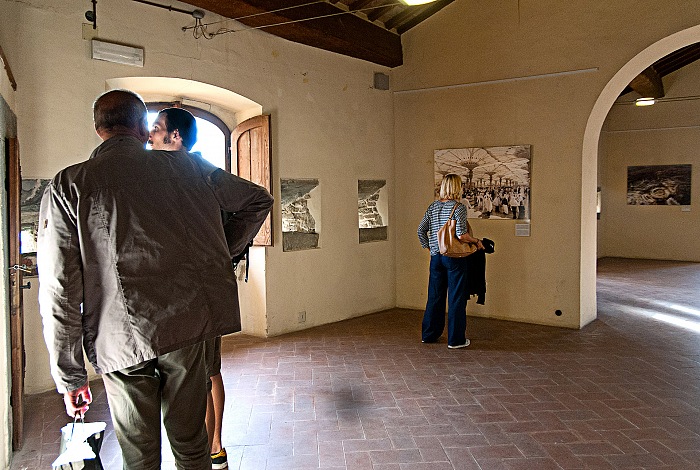 During the visit at the exhibition Mega Mecca by Luca Locatelli. © Stefania Biamonti/FPmag.
It would probably be enough to think about it or to do it - as suggested by the same Locatelli in the interview that he granted to FPmag – a quick parallel with how much we can see around San Pietro in Rome. Pilgrims from all over the world converge towards the place of worship symbol of Christianity, but around them thrives a large business turnover ranging from transport to catering, passing through to the hospitality and the souvenir market. Of course, after visiting the exhibition, on everything you can find around the Mecca. As it is normal to think that not all those who come every day to the Mecca are not insane suicidal, but they are people, absolutely normal families that pay tribute to what they believe in. And like all those who are travelling to Rome, they sleep in hotels, eat in restaurants, buy souvenirs and maybe even pray.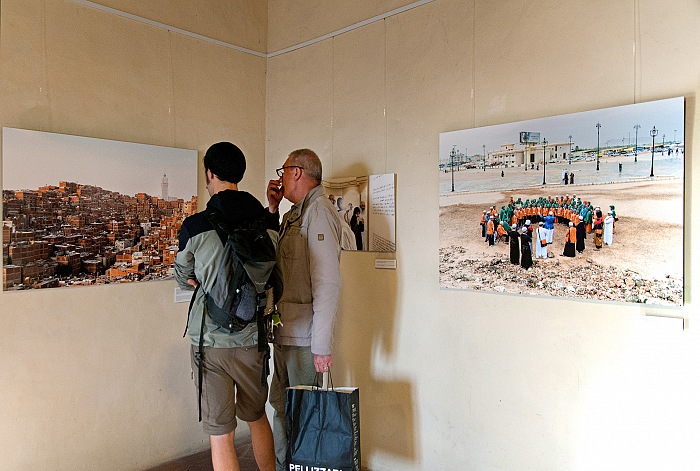 During the visit at the exhibition Mega Mecca by Luca Locatelli. © Stefania Biamonti/FPmag.

The setup in the picturesque Fortezza del Girifalco is marked by great simplicity and lives much of the contrast between what Luca Locatelli depicts in the photographs and what is seen through the windows overlooking the valley. The contrast is strong, under whatever point of view you want to face it. Perhaps, though, in that antinomy landscape is summarised in some way the disorientation of the Western viewer in the face of the inevitable movement of impressive economies that revolve around this place of worship.
Overall, the exhibition is to be attributed to the undoubted merit of showing a reality, deducible if you only had the habit of stopping to think, but certainly not obvious to a Western audience, demonstrating to us that what we tend to consider so far away from us, maybe is much less than we are led to believe.
To lead to reflection should be one of the objectives of photography with a journalistic background, the work by Luca Locatelli fully realises the task in this regard. And these days that really is something. [ Sandro Iovine ]


- - -
MEGA MECCA
by Luca Locatelli
Fortezza del Girifalco, via Raimondo Bistacci - Cortona AR (Italy)
14 July – 2 October 2016
opening times: (until September 4th, 2016) daily, 10 am - 8 pm | (from September 4th to October 2nd, 2016) daily, 10 am - 7 pm
admission fee: 15,00 € for all exhibitions | reduced 12,00 € for all exhibitions | 6,00 € Fortezza del Girifalco only

– – –
[ INTERNAL RESOURCES ]
◉ [ FPtag ] Cortona on the Move 2016: the point of vue of the editorial staff
◉ [ video ] Cortona On The Move: an announced success
◉ [ books ] Memorandum: the first 10 years of TerraProject
◉ [ contest ] Happiness On The Move 2016: the winner
◉ [ post.it ] FPmag and Cortona On The Move
◉ [ contest ] OFF Circuit finalists
◉ [ FPtag ] Cortona on the Move 2015

[ EXTERNAL RESOURCES ]
◎ Cortona On The Move
◎ Luca Locatelli