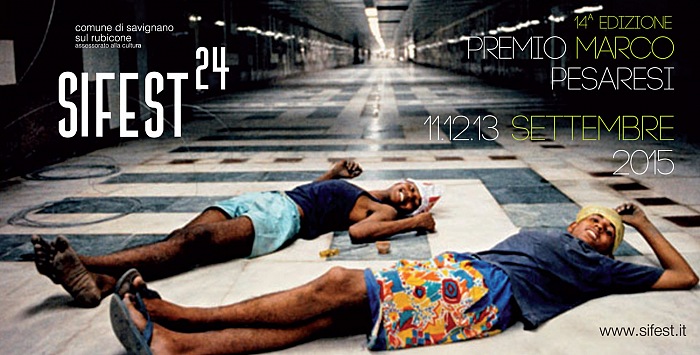 Photo: Calcutta Subway, India. © Marco Pesaresi.
Marco Pesaresi Award 2015
The Marco Pesaresi Award for Contemporary Photography 2015 is intended «to pay homage to an outstanding photographer from Rimini, Marco Pesaresi, and to promote research and photo-reportage projects that have to prove innovative in the field of contemporary photography». The competition, which celebrates its 14th edition, is open to photographers of all nationalities, who must not be over the age of 40 by the competition deadline (Monday 10th August 2015).
If you wish to apply, please submit your photos (no more than 20 images) to the Festival administrative office via e-mail or in a CD (.jpeg files / height: 30 cm / 72 dpi) together with a presentation text outlining your project, a brief artistic biography and the application form (available here) no later than the deadline. The photographs have to deal preferably with a single theme and sketch out a photographic project that the author wishes to develop using the money awarded. The author may then choose to carry on with the work submitted to the jury or opt for a completely different development.
The authors of the projects selected by the jury on the competition deadline are required to submit the printed portfolio with the photographs sent by email and contained in the CD to the Festival administrative office in a sealed envelope (20 photos, 40x30 cm max) by Tuesday 1st September 2015.
The winner of the Pesaresi Award 2015 will be announced on Friday September, 11th 2015 within the framework of the opening of the 24th annual SI Fest in Savignano sul Rubicone and his/her project will be exhibited in the next edition of SI Fest 2016.
The Marco Pesaresi Award 2015 is promoted by Savignano Immagini in cooperation with the Town of Savignano sul Rubicone and Il Fanciullino, a cultural association founded by Isa Perazzini.
deadline: August 10th, 2015
entry fee: none
prizes: 5.000 € and exhibit in the context of SiFest 2016
info: info@savignanoimmagini.it
www.sifest.it
published on 2015-07-30 in NEWS / CONTEST
more in CONTEST


recent news
FPmag
editor in chief Sandro Iovine | sandro.iovine@fpmagazine.eu - senior writer Stefania Biamonti - web developer Salvatore Picciuto | info@myphotoportal.com - linguistic coordination Nicky Alexander - translations Nicky Alexander, Rachele Frosini - contributor Davide Bologna, Mimmo Cacciuni Angelone, Laura Marcolini, Stefano Panzeri, Pio Tarantini, Salvo Veneziano - local Lazio correspondent Dario Coletti local Sardinian correspondent Salvatore Ligios - local Sicilian correspondent Salvo Veneziano - editorial office via Spartaco, 36 20135 Milano MI | redazione@fpmagazine.eu - phone +39 02 49537170 - copyright © 2015 FPmag - FPmag is a pubblication of Machia Press Publishing srl a socio unico, via Cristoforo Gluck, 3 20135 Milano MI - VAT no. 07535000967 C.F. (TAX code) 07535000967 - Copyright © 2015 FPmag - Registered at Tribunale di Milano No. 281 on the 9th September 2014


ITA - Informativa sui cookie • Questo sito internet utilizza la tecnologia dei cookies. Cliccando su 'Personalizza/Customize' accedi alla personalizzazione e alla informativa completa sul nostro utilizzo dei cookies, cliccando su 'Rifiuta/Reject' acconsenti al solo utilizzo dei cookie tecnici, cliccando su 'Accetta/Accept' acconsenti all'utilizzo dei cookies sia tecnici che di profilazione (se presenti).

ENG - Cookie policy • This website uses cookie technology. By clicking on 'Personalizza/Customize' you access the personalization and complete information on our use of cookies, by clicking on 'Rifiuta/Reject' you only consent to the use of technical cookies, by clicking on 'Accetta/Accept' you consent to the use of both technical cookies and profiling (if any).