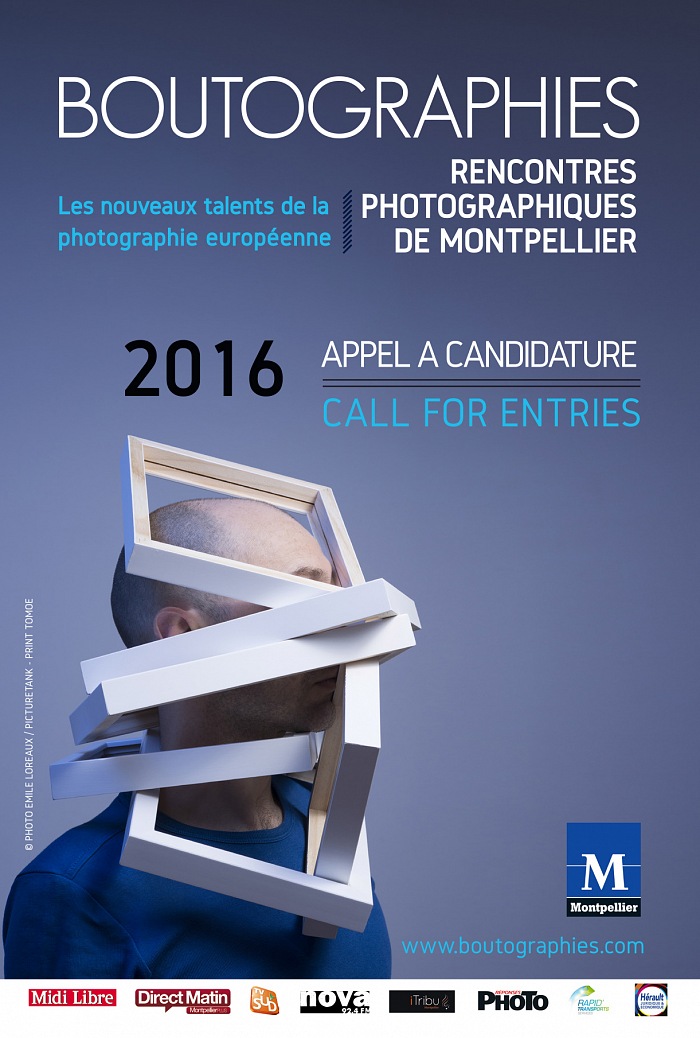 Boutographies 2016: Call for entries
All candidates must submit their works as a digital file in a series of between 10 and 20 photos as a digital file in the following format: 700 pixels for the longest dimension, in 72dpi and in jpg. All the images should be in a .zip file. Each image should be identified in this way: Name_fist name_Exhibition title_Number of the photo (example: Smith_Peter_Jardin_secret_02.jpg). Name the .zip file like this: Name_fist name_Exhibition title (example: Smith_Peter_Jardin_secret.zip).
Candidates must present a single subject by dossier, but collectives and group have to contact the organization.
All dossiers must contain a presentation of the work and a curriculum vitae. The text must inclose: a presentation the work, its title, and an indication of the number and size of the images the candidate wishes to propose, if selected for exhibition. All on a digital file name the file have to name like this: Name_fist name_Exhibition title.text.pdf (example: Smith_Peter_Jardin_secret.text.pdf).
The CV + personal details; title (Mr. Mrs. Miss) address, telephone and e-mail must be in a digital file named like this: Name_fist name_Exhibition title.bio.pdf (example: Smith_Peter_Jardin_secret.bio.pdf).
Only those dossiers complying with all the conditions will be considered and the organization do not accept submissions via agents.
The inscription fees are 22,00 € for each dossier sent in. They are not reimbursable in case of non-selection. The fees can be paid by cheque in euros (drawn on a French bank only) made out to Grain d'Image ; by international bank transfer*; or by PayPal**. (see the Inscription form on the following page).
After a pre-selection by the festival's directors, about a hundred photographers will be invited to send in the same work as paper prints (proofs) for examination by a final jury. Preselected authors will be notified at the beginning of December.
deadline: November, 15th 2015
entry fee: 22.00 € for dossier
prizes: exhibition
info: +33 (0)6 19291784 ❘ +33 (0)9 54480746
contact@boutographies.com
www.boutographies.com
published on 2015-08-10 in NEWS / CONTEST
more in CONTEST


recent news
FPmag
editor in chief Sandro Iovine | sandro.iovine@fpmagazine.eu - senior writer Stefania Biamonti - web developer Salvatore Picciuto | info@myphotoportal.com - linguistic coordination Nicky Alexander - translations Nicky Alexander, Rachele Frosini - contributor Davide Bologna, Mimmo Cacciuni Angelone, Laura Marcolini, Stefano Panzeri, Pio Tarantini, Salvo Veneziano - local Lazio correspondent Dario Coletti local Sardinian correspondent Salvatore Ligios - local Sicilian correspondent Salvo Veneziano - editorial office via Spartaco, 36 20135 Milano MI | redazione@fpmagazine.eu - phone +39 02 49537170 - copyright © 2015 FPmag - FPmag is a pubblication of Machia Press Publishing srl a socio unico, via Cristoforo Gluck, 3 20135 Milano MI - VAT no. 07535000967 C.F. (TAX code) 07535000967 - Copyright © 2015 FPmag - Registered at Tribunale di Milano No. 281 on the 9th September 2014


ITA - Informativa sui cookie • Questo sito internet utilizza la tecnologia dei cookies. Cliccando su 'Personalizza/Customize' accedi alla personalizzazione e alla informativa completa sul nostro utilizzo dei cookies, cliccando su 'Rifiuta/Reject' acconsenti al solo utilizzo dei cookie tecnici, cliccando su 'Accetta/Accept' acconsenti all'utilizzo dei cookies sia tecnici che di profilazione (se presenti).

ENG - Cookie policy • This website uses cookie technology. By clicking on 'Personalizza/Customize' you access the personalization and complete information on our use of cookies, by clicking on 'Rifiuta/Reject' you only consent to the use of technical cookies, by clicking on 'Accetta/Accept' you consent to the use of both technical cookies and profiling (if any).