A space for Photography
It is a location in perfect Arles style that hosts A space for Photography: a courtyard in the heart of Arles with three distinct but communicating spaces. In the same yard there are the doors of the houses where some of the photographers live during the Voies Off experience. The improvised open-air lounge is always open to visitors so they can have a chat with the exhibitors. The communication of the exhibition was entrusted to a series of colourful, impossible posters that would have been impossible not to see, stuck, as they were everywhere, even on the ground, on the asphalt. Meg Hewitt, the Australian of the group, has confessed to having risked a fine for uncivilised billposting, something really atypical in the permissive Arles festival. But beyond the atmosphere, A space for Photography has proven to be a powerful and interesting container of images.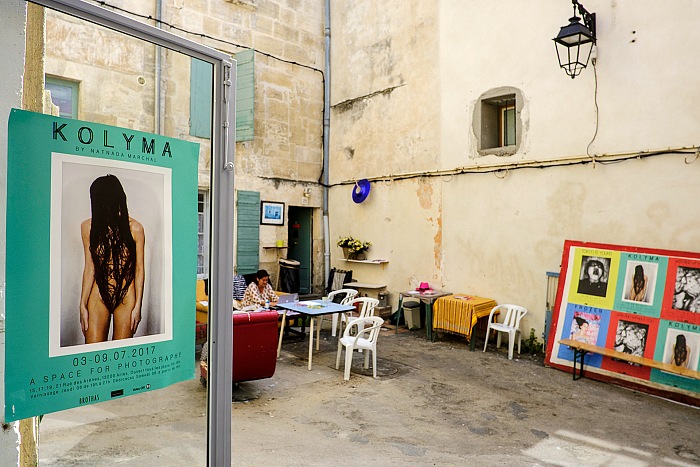 A moment of the visit at A space for Photography. © Salvo Veneziano/FPmag.
Jacob Aue Sobol – With and Without You
Jacob Aue Sobol's work is a tribute to his father, who died when he was just twenty years old. A compilation of all his projects he never got to see, including the unpublished Home and then Road Of Bones, America.
Natnada Marchal – Kolyma
Natnada Marchal presents a unique Polaroid series realised during a 2031 kilometre trip on the Kolyma Highway in Siberia. Deserted villages, intimate portraits and the beauty of the strange and wild nature.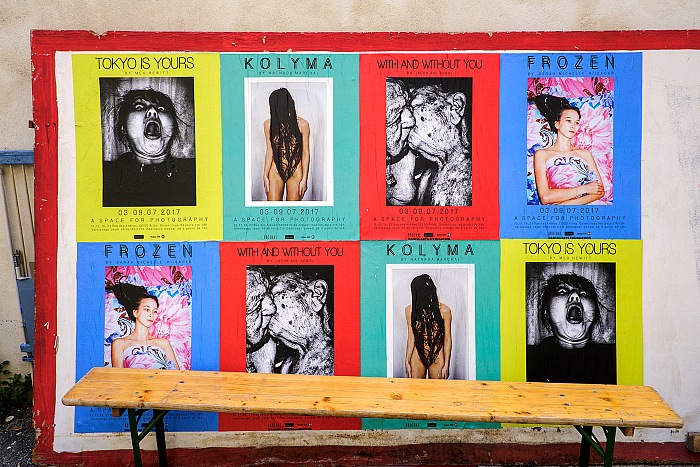 A moment of the visit at A space for Photography. © Salvo Veneziano/FPmag.
Meg Hewitt – Tokyo Is Yours
Meg Hewitt's work is the pinnacle of an interesting path inspired by manga, surrealism, and Japanese noir films after the earthquake in 2011, where her strong visceral relationships built with the people; places, animals and things come out.
Sarah Michelle Riisager – Frozen
Frozen appears as a representation of the relational world of the author. The project developed during a trip to Yakutia but regardless of geographic coordinates, its strength lies in the frosty sensation that the images provide. [ Salvo Veneziano ]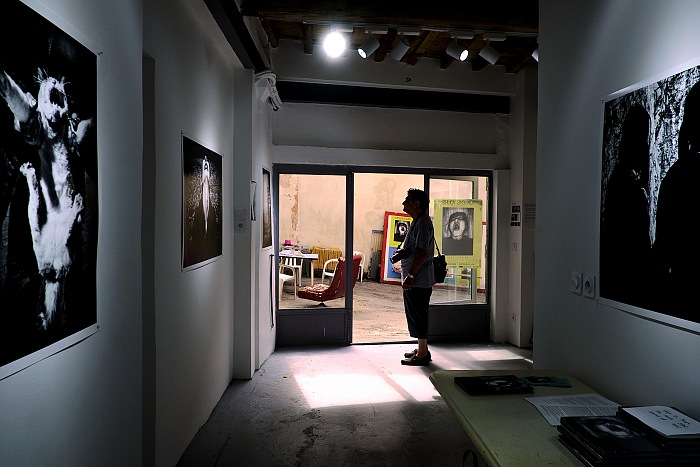 A moment of the visit at A space for Photography. © Salvo Veneziano/FPmag.

- - -
A SPACE FOR PHOTOGRAPHY
Exhibitions by Jacob Aue Sobol, Natnada Marchal, Meg Hewitt and Sarah Michelle Riisager
15, 17, 19, 21 rue des Arénes - Arles (France)
3 – 9 July 2017
opening times: every day, 11 am - 7 pm
entrance fee: free entry

– – –
[ INTERNAL RESOURCES ]
◉ [ FPtag ] Voies Off 2017: the editorial staff point of view
◉ [ exhibitions ] Fermez les yeux et regardez
◉ [ contest ] The Voies Off competition 2017
◉ [ FPtag ] Voies Off 2016: the editorial staff point of view

[ EXTERNAL RESOURCES ]
◎ Voies Off
◎ Jacob Aue Sobol
◎ Natnada Marchal
◎ Meg Hewitt
◎ Sarah Michelle Riisager