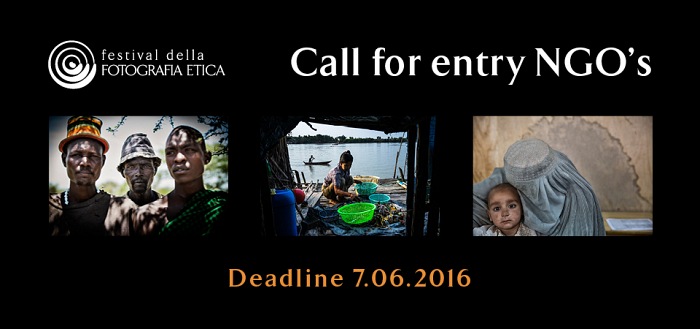 A Call for Entry for NGOs
For its seventh edition, the Festival of Ethical Photography launches a Call for Entry for all NGOs, for all humanitarian organisations and associations of volunteers that use photography as a mean to converge attention on socially sensitive issues. The organisers' objective is to select the best works and show them in next event's edition in the so called NGO Area, a special section dedicated to the photographic works that have been commissioned by no-profit organisations in order to sensitise public opinion.
In order to participate, NGOs will have to follow the rules set in the tender and send by the 7th of June one or more reportages by filling this form. All information will need to be filled in and submitted together with a folder containing: a selection of the photos of the work put forward (between 10 and 20 images in JPEG format), a few words to present the work, a small introduction to the NGO proposing it and a word file with technical specification in case the work will be exhibited ( i.e. print size, material and specific instructions on the set up, etc.). The works submitted will be evaluated by the organisers of the Festival of Ethical Photography and selected depending on the schedule of the seventh edition that will take place in October 2016. All participating NGOs will be informed of the outcome by the 15th of July 2016. It is worth reminding that the festival's organisers, to their own discretion, could ask the authors of the selected works a different editing: it could be necessary for example to submit more images compared to thee ones initially presented. For more info and to read the tender please click here.
deadline: June 7th, 2016
info: ngo@festivaldellafotografiaetica.it
www.festivaldellafotografiaetica.it


_ _ _

[ INTERNAL RESOURCES ]
◉ [ contest ] World.Report Award 2016
◉ [ FPtag ] Festival of Ethical Photography 2015: the FPmag's report

[ EXTERNAL RESOURCES ]
◎ Festival della Fotografia Etica
published on 2016-05-05 in NEWS / MELTINGPOT
FFE2016
FujifilmItalia
more in MELTINGPOT


recent news
FPmag
editor in chief Sandro Iovine | sandro.iovine@fpmagazine.eu - senior writer Stefania Biamonti - web developer Salvatore Picciuto | info@myphotoportal.com - linguistic coordination Nicky Alexander - translations Nicky Alexander, Rachele Frosini - contributor Davide Bologna, Mimmo Cacciuni Angelone, Laura Marcolini, Stefano Panzeri, Pio Tarantini, Salvo Veneziano - local Lazio correspondent Dario Coletti local Sardinian correspondent Salvatore Ligios - local Sicilian correspondent Salvo Veneziano - editorial office via Spartaco, 36 20135 Milano MI | redazione@fpmagazine.eu - phone +39 02 49537170 - copyright © 2015 FPmag - FPmag is a pubblication of Machia Press Publishing srl a socio unico, via Cristoforo Gluck, 3 20135 Milano MI - VAT no. 07535000967 C.F. (TAX code) 07535000967 - Copyright © 2015 FPmag - Registered at Tribunale di Milano No. 281 on the 9th September 2014


ITA - Informativa sui cookie • Questo sito internet utilizza la tecnologia dei cookies. Cliccando su 'Personalizza/Customize' accedi alla personalizzazione e alla informativa completa sul nostro utilizzo dei cookies, cliccando su 'Rifiuta/Reject' acconsenti al solo utilizzo dei cookie tecnici, cliccando su 'Accetta/Accept' acconsenti all'utilizzo dei cookies sia tecnici che di profilazione (se presenti).

ENG - Cookie policy • This website uses cookie technology. By clicking on 'Personalizza/Customize' you access the personalization and complete information on our use of cookies, by clicking on 'Rifiuta/Reject' you only consent to the use of technical cookies, by clicking on 'Accetta/Accept' you consent to the use of both technical cookies and profiling (if any).