Visa pour l'Image 2016
The Visa pour l'Image - International Festival of Photojournalism is the annual international event organised in the French town of Perpignan by the Association Visa pour l'Image - Perpignan.
Directed once again by Jean-François Leroy, the 28th edition of the renowned French festival dedicated to photojournalism is scheduled from 27th August to 11th September 2016, and will offer the customary full calendar of events, including exhibitions, screenings, meetings with the authors, awards and conferences. These will be mainly concentrated in the so-called Semaine Professionnelle (from 29th August to 4th September) and in the Semaine Scolaire, or rather the week dedicated to schools (from 12th to 16th September)
As is now customary, during the Semaine Professionelle FPmag will be in Perpignan and, through this page, will tell you all about the Visa pour l'Image 2016 by offering its own points of view on the event.

On the cover: (centre) © Brent Stirton/Getty Images Reportage pour National Geographic, (clockwise from left) © Peter Bauza/Echo Photojournalism, © Felipe Dana/The Associated Press, © Frédéric Lafargue pour Paris Match, © Frédéric Noy/Cosmos
EXHIBITIONS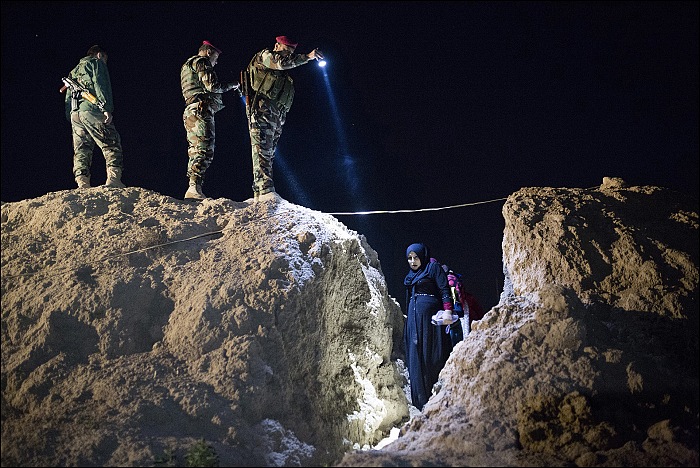 A pregnant woman who has managed to find one of the rare openings in the defense line is seen crossing the frontline at midnight. Doogrdkan (56 km south of Mosul), April 19, 2016. © Frédéric Lafargue for Paris Match.
Escape from ISIS What happens when a city is freed after two years of being occupied by the Isis? Frederic Lafargue tells us about it in his work on Sanjar, in North Western Iraq
MELTINGPOT
From the project IN/VISIBLE by Ann-Christine Woehrl. © Ann-Christine Woehrl.
Echo Photojournalism and Visa 2016 A strong presence of the international agency Echo Photojournalism at the Visa pour l'Image 2016 in Perpignan. Among exhibitions, screenings and book signing

EVENTS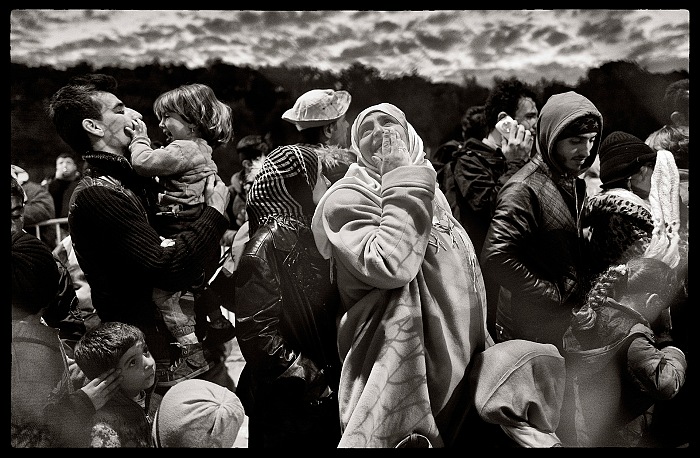 Hotspot, Moria, Lesbos, Greece. Refugees who reach Europe first register at the hotspot where they are sorted according to nationality. The waiting seems interminable as the formalities go on and on. © Marie Dorigny / MYOP for the European Parliament 2016.
Visa pour l'Image 2016: an overview The 28th edition of Visa pour l'Image is upon us. Here is a preview of the programme of the famous festival to be held in Perpignan from 27th August to 11th September 2016
FPmag
editor in chief Sandro Iovine | sandro.iovine@fpmagazine.eu - senior writer Stefania Biamonti - web developer Salvatore Picciuto | info@myphotoportal.com - linguistic coordination Nicky Alexander - translations Nicky Alexander, Rachele Frosini - contributor Davide Bologna, Mimmo Cacciuni Angelone, Laura Marcolini, Stefano Panzeri, Pio Tarantini, Salvo Veneziano - local Lazio correspondent Dario Coletti local Sardinian correspondent Salvatore Ligios - local Sicilian correspondent Salvo Veneziano - editorial office via Spartaco, 36 20135 Milano MI | redazione@fpmagazine.eu - phone +39 02 49537170 - copyright © 2015 FPmag - FPmag is a pubblication of Machia Press Publishing srl a socio unico, via Cristoforo Gluck, 3 20135 Milano MI - VAT no. 07535000967 C.F. (TAX code) 07535000967 - Copyright © 2015 FPmag - Registered at Tribunale di Milano No. 281 on the 9th September 2014


ITA - Informativa sui cookie • Questo sito internet utilizza la tecnologia dei cookies. Cliccando su 'Personalizza/Customize' accedi alla personalizzazione e alla informativa completa sul nostro utilizzo dei cookies, cliccando su 'Rifiuta/Reject' acconsenti al solo utilizzo dei cookie tecnici, cliccando su 'Accetta/Accept' acconsenti all'utilizzo dei cookies sia tecnici che di profilazione (se presenti).

ENG - Cookie policy • This website uses cookie technology. By clicking on 'Personalizza/Customize' you access the personalization and complete information on our use of cookies, by clicking on 'Rifiuta/Reject' you only consent to the use of technical cookies, by clicking on 'Accetta/Accept' you consent to the use of both technical cookies and profiling (if any).