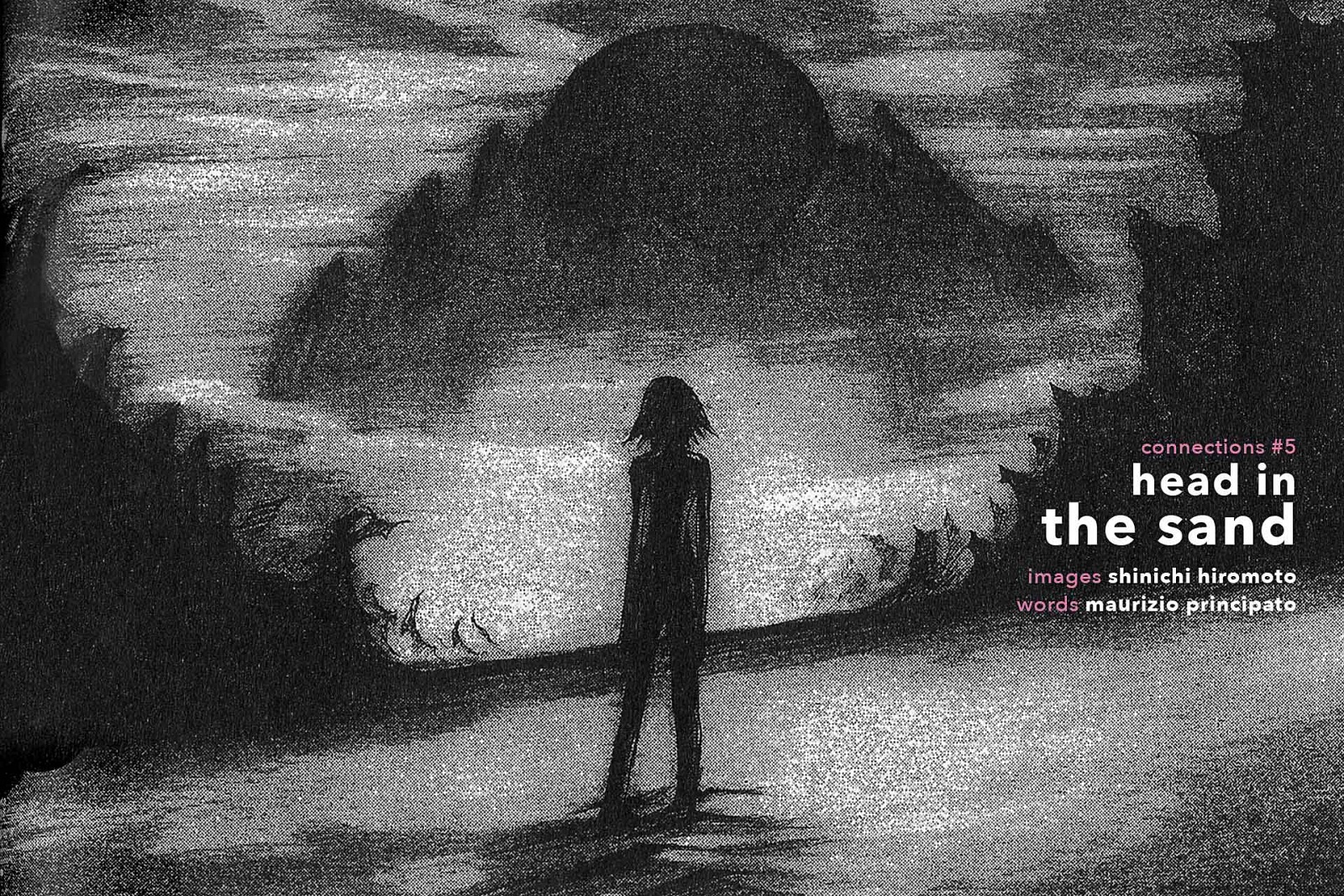 iSTONE(2002) by Shinichi Hiromoto.
© Shinichi Hiromoto-Kodansha Ltd – Kappa edizioni.
What would happen if all of a sudden water disappeared from the Earth? What would happen if sand filled the oceans and every form of urbanization was reduced to dust? What would happen to the landscape, as we know it? The apocalyptic vision of the Japanese cartoonist Shinichi Hiromoto


A dry and dusty planet. Imagine Earth without any water, or with very little water left and no one who knows where to find it. The oceans are dust containers where strange giants live together with distort monsters and killer jaws. Ancient cities are crumbling concrete cemeteries from where every life form has escaped to avoid the fury of the Kuroshio, the destructive stream that ages before had terminated every form of civilization.
Nature revenged against men and women, guilty of altering all equilibriums and most of all responsible of intervening on landscape and lands with urbanisation and constructions, brutalising and exhausting every resource. What happens when there is no more chance to settle down?
Simple: people start moving to survive. This is a planet where cities are silent simulacrums, water is the scarcest resource and human beings survive wandering on enormous whalers cutting through oceans of sand desperately looking for food. The most longed for preys are sand whales, but capturing them is very hard and dangerous and the hunters risk their lives. Zizi, or the pink haired witch, is a little girl and she is the only one that can see through sand and always defeat whales as well as all other monsters that hide in the sand. But is it worthy living in a world like this?
Twenty years ago the mangaka Shinichi Hiromoto was called the enfant terrible of Japanese comics. The ex-enfant will be 50 next year and since the beginning of his respected career, his fantasy has brought him to imagine declined civilisations and apocalyptic scenarios.
Published for the fist time in 2002, Stone is a simplified epic where everything rotates around a heroin that becomes conscious of her strength and is able to successfully face any kind of adversity or challenge. There is a basic individualism, Mishima's style, that in Hiromoto's written and drawn stories acquires pulp connotations with sudden screams, booming cacophony, scary surprises (such as the sudden attacks of the Jaws, monsters without bodies or eyes) and nervous dialogues. The plot is cut down to the bone and what is instead really important are characters' emotions, as always happens in manga.
Plausible? Not at all, but this has never been a problem for Japanese authors.

[ Maurizio Principato ]
iSTONE (2002) by Shinichi Hiromoto.
© Shinichi Hiromoto – Kodansha Ltd – Kappa edition.
≡THE MASSIVE (2012)
by Brian Wood, Kristian Dolandson, Dave Stewart
© Panini comics – Dark Horse Comics

A submerged planet: imagine that water is everywhere on earth. Exactly the opposite of what is described in Stone, The Massive talks about a planet where cities and past civilizations have been swept away by the big Fall, a global disaster where the planet has taken back ownership of itself and its freedom by submerging everything. Seas are cut through by ships such as the one driven by Captain Callum Israel that wanders around on a converted fishing boat looking for missing friends and fellows.
It is a Hollywood story where the main character is the de-urbanised environment and humans (environmentalists or pirates) look lost and without any hope, like astray ships.




The cover and very beginning of THE MASSIVE (2012)
by Brian Wood, Kristian Dolandson, Dave Stewart.
© Panini comics – Dark Horse Comics.
iThe cover and some plates from the fist episode of Shinichi Hiromoto's STONE (2002).
© Shinichi Hiromoto – Kodansha Ltd – Kappa edition.
iSTONE (2002) by Shinichi Hiromoto.
© Shinichi Hiromoto – Kodansha Ltd – Kappa edition. v DUNE (1984)
by David Lynch

The references and the associations to Stone are numerous. In the film industry the first and most direct is probably to Dune, a 1984 science fiction film directed by David Lynch and based on the novel by Frank Herbert. A complex and articulated saga, the novel by Herbert proposes a fight for absolute power largely set on the inhospitable planet Arrakis, almost totally without water and devastated by massive hurricanes that disrupt the surface with strong winds of 800km per hour, and by huge worms that live in the sand, invulnerable to every human attack.


Suna no Onna (1962)
by Hiroshi Teshigahara

Another possible reference is the claustrophobic Suna no nona (A woman in the Dunes), directed in 1962 by Hiroshi Teshigahara and directly inspired by the novel of the same name by Kobo Abe (which can be seen here in its full version with English subtitles). The novel describes in an extremely claustrophobic way the events of amateur entomologist Niki Junpei, who is looking for a still unknown insect to which to give his own name. He ends up in the home of a young widow, at the bottom of a deep sand pit. Every day the man and woman are forced to dig so as not to remain buried in the advancing sand. The anger and anguish over the forced situation dominate the novel, in the continuing frustration of an impossible escape from that sand prison. An element in which, unlike water, you cannot swim, but which imprisons and kills under its weight. His freedom of mind will come only when Junpei understands why there are other houses at the bottom of deep pits similar to that in which he is forced to live.

iThe opening of the first episode of Shinichi Hiromoto's STONE (2002).
© Shinichi Hiromoto – Kodansha Ltd – Kappa edition.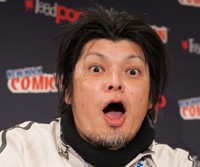 Shinichi Hiromoto - He was born in Kumamoto (Kyūshū Island, Japan) on the 4th of January 1966. He begins his career as an author and cartoonist at the beginning of 1990 publishing manga Single Action Army (1992) and Benkei (1993). Kodasha, one of the most important comic publishing houses in Japan, published both series. The mangaka created also other very successful works such as: Fortified School, Hells Angels, Bushidou, Girls Zombie. Shinichi Hiromoto is cold and rational, he has a taste for the horrid and the disgusting and he is always searching new narrative opportunities. His aim is not the commercial success – that he involuntarily obtains – and he focuses on imagining and showing future universes where cities are destroyed and, what we consider today as distort or monstrous, is simply part of the daily life. In lots of his manga Hiromoto focuses on explicit erotic-pornographic themes that are tailored for an adult audience that can resist cheap shots, but this is certainly not the case of Stone.