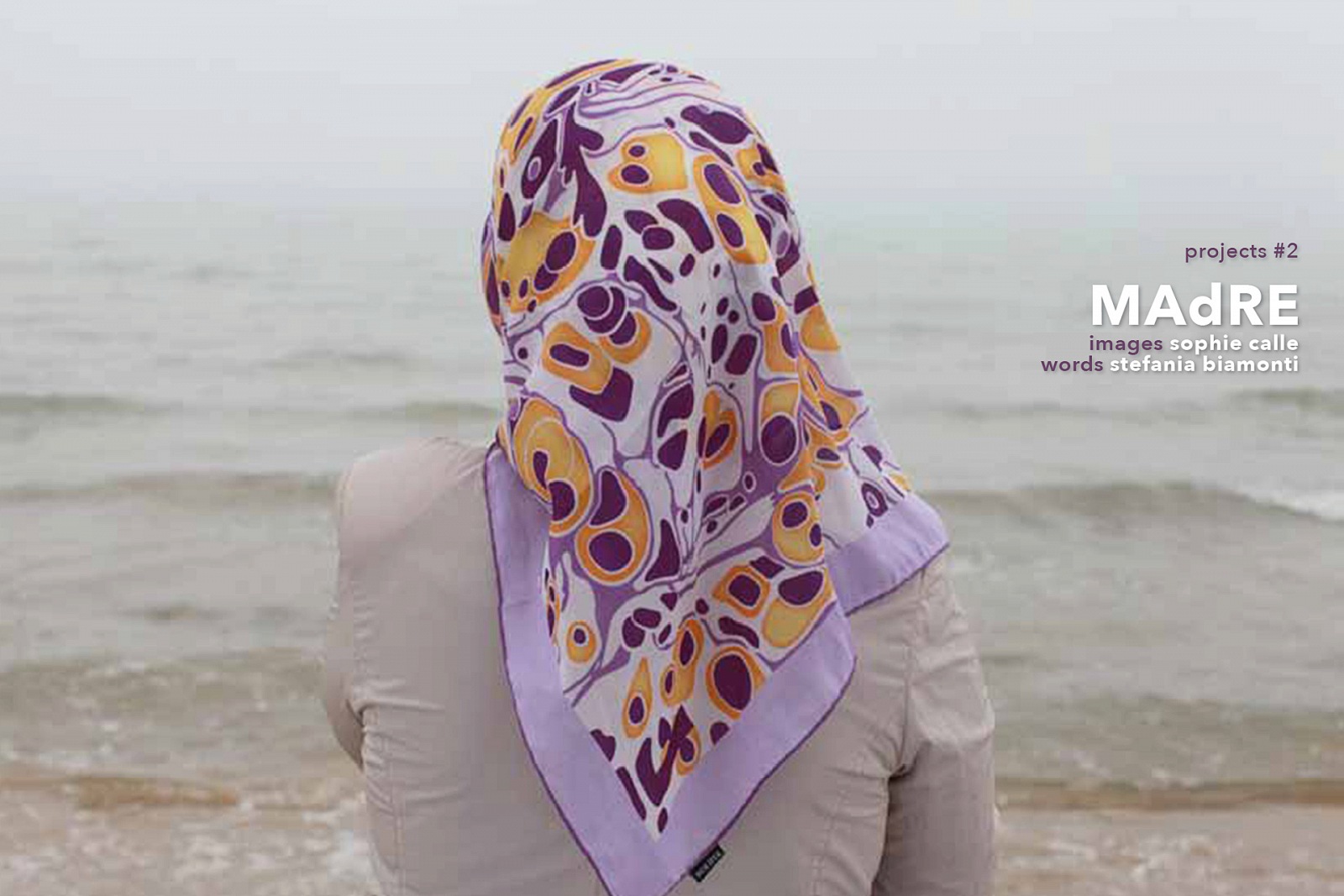 iView of the exhibition Sophie Calle. Pour la dernière et pour la première fois, Les Rencontres d'Arles, Chapelle Saint-Martin du Méjan, 2012.
Sophie Calle, Voir la mer, 2011 (14 films, color, sound, photographs). Director of photography: Caroline Champetier.
© Adagp, Paris, 2014. Courtesy Galerie Perrotin. Photo: Florian Kleinefenn.
«Capture ideas and then redistribute them as part of one's own subjective experience: it is the constant and customary style of the conceptual works of Sophie Calle. In other words, that is, to make the world, everything in the world, one's own autobiography.»
Beppe Sebaste*


To peer into the lives that run parallel to one's own, to draw from one's own experiences and emotions, and those of others, to then relate them to the events in one's own private life, revealing the most authentic and deepest aspects and outlining in this way the contours of a daily tragedy that becomes universal, so that everyone can make it their own. This is what Sophie has done since the late seventies, often with provocative and controversial methods, never banal, which on more than one occasion has brought to light traces of what may be defined as a strong conceptual voyeurism.
In her work, the Parisian artist frequently draws upon a mixture of different languages, such as writing, photography and video. In the creation of installations, objects and various kinds of materials are put together and combined in configurations. This is done in a precise and almost maniacal way, in order to create original narrations. In other words she prepares words, images, objects like some sort of theatrical organisation, without putting on a show, which goes through a process of appropriation and re-conceptualisation of reality and at the same time, cultural and philosophical processing of her own personal experiences as a woman and an artist. A complex and highly sophisticated piece of work, of which, the exhibition currently on show at the Castello di Rivoli, curated by Beatrice Mertz offers an excellent example.
MAdRE is in fact a project which was specially designed by the artist for the stately rooms on the second floor of the Sabauda Residenza. A project entirely site-specific which is articulated through the encounter and the clash of two projects of which the artist has been working on for several years: Rachel, Monique and Voir la mer.
The first is a palimpsest of works, which began from the filming of the video of her mother's death, it has evolved over time due to the accumulation, that is, through the inclusion of layers of elements and memories which, overall creates a sort of backwards diary; the second on the other hand is a video installation, in which Calle captures the feelings – happiness, dismay, emotion – of some people from Istanbul in the moment in which they turn to her after having spent several minutes to consider something which, for various reasons, they had never seen although being part of their everyday scenery: the sea.
The comparison between these two projects offers as many paths, which occur at the same time, united and distinct, including works based on themes quite recurrent in the poetics of the artist (feelings, emotions, private life, the separation from a loved one, pain, etc), whilst gravitating around the analogy mother-sea, as the title itself suggests of the exhibition. A sea which as stated in the introduction to the exhibition «welcomes and unites, covers and takes hold of an immensity of contrasting feelings and emotions».
However, Sophie Calle does not limit herself to representing feelings and emotions, she in fact manages to convey between the lines, also the reflections that these cause. «An operation purely philosophical» – writes Sebaste in the continuation of the text quoted in the opening – that into the specifics of this project focuses «on what is it we don't see, on the role played by ties and memories, on the paradox of nature that welcomes, creates and destroys, on the blindness that creates unconsciousness and on the absence of vision determined by certain aspects of a separation».

[ Stefania Biamonti ]

--------------------------------------------
(*) - Beppe Sebaste, Gli sguardi di Sophie, L'Unità, 27 January 2004.
iSophie Calle, Voir la mer, 2011. (detail).
14 films, color, sound, photographs. Director of photography: Caroline Champetier.
© Adagp, Paris, 2014. Courtesy Galerie Perrotin.
≡VOIR LA MER
(video installation)

«In Istanbul, a city surrounded by the sea, I met people who had never seen it. I took them to the Black Sea coast. They came to the water's edge, one by one, their eyes lowered, closed or masked. I was behind them. I asked them to look out to the sea and then turn back towards me so that I could see those eyes that had just seen the sea for the first time».
Sophie Calle

iView of the exhibition Sophie Calle. Pour la dernière et pour la première fois, Les Rencontres d'Arles, Chapelle Saint-Martin du Méjan, 2012.
Sophie Calle, Voir la mer, 2011 (14 films, color, sound, photographs). Director of photography: Caroline Champetier. © Adagp, Paris, 2014. Courtesy Galerie Perrotin. Photo: Florian Kleinefenn.

≡THE EXHIBITION

Sophie Calle. MAdRE
curated by Beatrice Merz
11 October 2014 - 15 February 2015

Castello di Rivoli
piazza Mafalda di Savoia - Rivoli (Torino)
www.castellodirivoli.org

Opening Hours: Tuesday to Friday, 10 am - 5 pm; Saturday and Sunday, 10 am - 7 pm; December 24 and 31, 2014, 10 am - 5 pm. Closed Monday, January 1, May 1, and December 25. Open Easter Monday.
Admission: regular admission, 6.50 €; reduction, 4.50 €; free for children under 11 and disabled. Free entrance for Abbonamento Musei e Torino Card holders.


View of the exhibition Sophie Calle. Pour la dernière et pour la première fois, Les Rencontres d'Arles, Chapelle Saint-Martin du Méjan, 2012.
Sophie Calle, Voir la mer, 2011 (14 films, color, sound, photographs).
Director of photography: Caroline Champetier.
© Adagp, Paris, 2014. Courtesy Galerie Perrotin.
Photo: Florian Kleinefenn.


iSophie Calle, Voir la mer (detail), 2011.
© Adagp, Paris, 2014. Courtesy Galerie Perrotin. ≡
MARE MATER
by Patrick Zackmann

The juxtaposition of the words mother and sea in order to introduce a story that, starting from an autobiographical account, to develop in other directions, has not only been used by Sophie Calle.
Between 2011 and 2013, the photographer Patrick Zachmann as a matter of fact made a film, entitled Mare Mater, in which the sense of insecurity experienced by migrants in the Mediterranean emerges forcefully through the stories of some of them, of their mothers and of the mother of the author himself, who immigrated to France from Algeria at a young age. All the stories are developed on the thread of memory, aboveall the relationship the migrants have with the sea which they had to cross and with the mother from whom they had to separate.
The film is part of a larger project of the same name which, on the occasion of Fotografia Europea 2014 (European Photography 2014), became part of the exhibition No Place Like Home.

The voice of the author (introduction to video)
«This is about a journey, a journey through memories and exiles. A journey that spins and weaves all the destinies I stumble upon. The fate of the emigrants leaving their country south of the Mediterranean Sea in order to evade joblessness, boredom, the lack of a future, and the fate of the mothers who let them go away or realize that they're gone.
Today, I'm starting the travel in reverse. I leave in search of my long-forgotten origins, of the missing images in my family photo album».
Patrick Zackmann
iSophie Calle, Morte de bonne humeur / Autobiographies (I Died in a Good Mood) (detail), 2013.
Digital print and text panel 50,5x50,5cm (image) 76,5x50,5cm (text) / 19 3/4 x 19 3/4 inches (image) / 30 1/8 x 19 3/4 inches (text). Photo: André Morin.
© 2014 Sophie Calle/Artists Rights Society (ARS), New York /ADAGP, Paris. Courtesy of Sophie Calle; Paula Cooper Gallery, New York, and Galerie Perrotin.
≡DEAD OF A GOOD MOOD

Extracts from my mother's diaries:

28.12.1985. It is useless to hope in the tenderness of my children, between Antoine's calm indifference and Sophie's selfish arrogance! My only consolation is that she is so morbid she will come to visit me more at the cemetery than in rue Boulard.
29.05.1986. I don't know anymore who I said this to on the telephone yesterday, talking about myself: «I came from nothing, and I went sickened by everything!»
09.07.1986. I still haven't decided if I want to be cremated or buried. It's strange, I just can't think that it can happen to me!
28.04.1987. – Goodbye, Diary. I'm going to New York. Let's hope everything is wonderful! If the plane falls, I leave a cheerful goodbye to life!
10.11.1988. I am gradually getting used to depression which, angrily, leaves me little by little.
06.06.1989. Abominable
01.01.1990. «To have never achieved anything, and die exhausted». (Cioran)
01.04.1991. No, I am neither depressed nor bitter, but I get terribly bored, I have no objectives, a project, an idea, «I feel like I am no more than a ruined tomb, where my virtues and my illusions lie».
21.02.1995. Nothing! I do nothing but cradle my sadness.
11.12.1995. I wish Christmas had already finished. Maybe I wish that my life had too.
10.12.1996. My dear Diary (probably the last), goodbye. I haven't given you much, but you have done just as much for me…

There was only one exercise book without dates. The pages were intact, apart from some notes on how to use a video recorder, and this sentence: «I died of a good mood».
Sophie Calle


«She was successively called Rachel, Monique, Szyndler, Calle, Pagliero, Gonthier, Sindler. My mother liked to be the object of discussion. Her life did not appear in my work, and that annoyed her. When I set up my camera at the foot of the bed in which she lay dying – I wanted to be present to hear her last words, and was afraid that she would pass away in my absence – she exclaimed: 'Finally!'»
Sophie Calle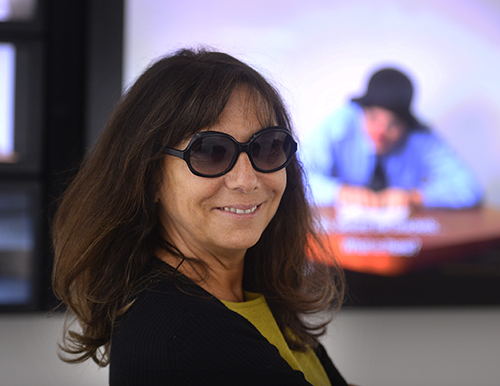 Sophie Calle - Born in Paris October 9, 1953, Sophie Calle today is one of the undisputed protagonists of the global art scene. Since the late seventies, she has worked with provocative and controversial methods to address the issue of daily tragedy, often sharing her own personal pain with both a liberating and mnemonic effect. Of this period are her first Journaux intimes, among whose pages follow considerations, accompanied by images, which bring into close relationship her own emotions with their phases and the events of her personal life. In her work, life and art in fact merge constantly, creating a sort of mise-en-place of her own life, and that of others, through objects, images, videos, texts and installations. The first of her work that she introduces into the art world is Les Dormeurs (1979), presented in 1980 at the XI Biennale de Paris. Manifestation International des jeunes artistes at the Musée d'Art Moderne. During the eighties she realises and exhibits numerous works always with a strong autobiographical character and voyeuristic aptitude, among which we recall Suite vénitienne (1980), The Hotel (1981), La Filature (1981), Le Carnet d'Adresses (1983 ), Les Aveugles (1986), Les Tombes (1990) and Fantômes (1989-1991). In the folllowing decades since her artistic activity continues intensely between Paris and New York, with the production of works such as Gotham Handbook (1994), The Regime chromatique (1997) and Des journées entières sous le signe du B, du C, du W (1998) and with various collaborations, including one with the American writer Paul Auster published in the box set Doubles-Jeux (1998). In 2007 she was appointed to represent France in the French Pavilion at the 52nd Venice Biennale of Contemporary Art. Today she lives between her studio in Malakoff (Paris) and New York.