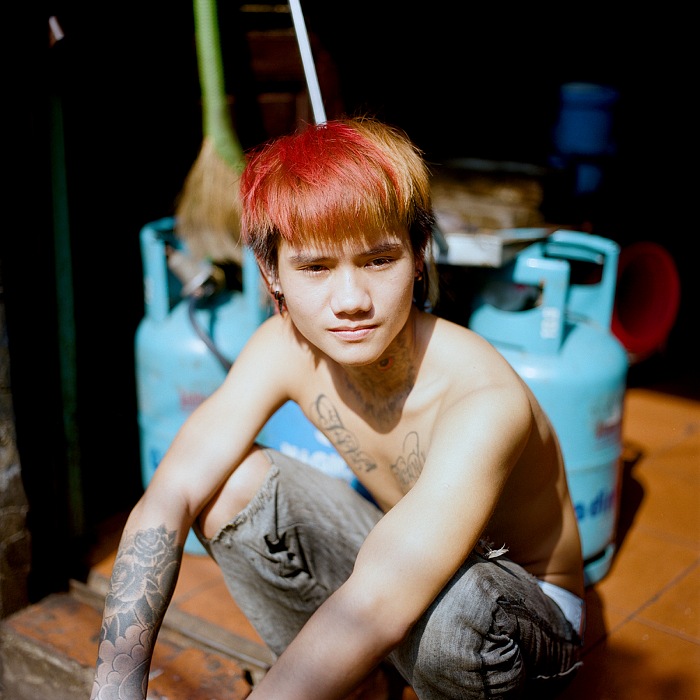 Gianpaolo Arena, dalla serie My Vietnam. © Gianpaolo Arena.
MOSTRE
Diecixdieci: quarta edizione
Incentrata sul tema Oriente, la quarta edizione di Diecixdieci – Festival di Fotografia Contemporanea ha preso il via il 28 settembre tra Gonzaga e Luzzara. Mostre aperte fino al 7 ottobre 2018
leggi...
MOSTRE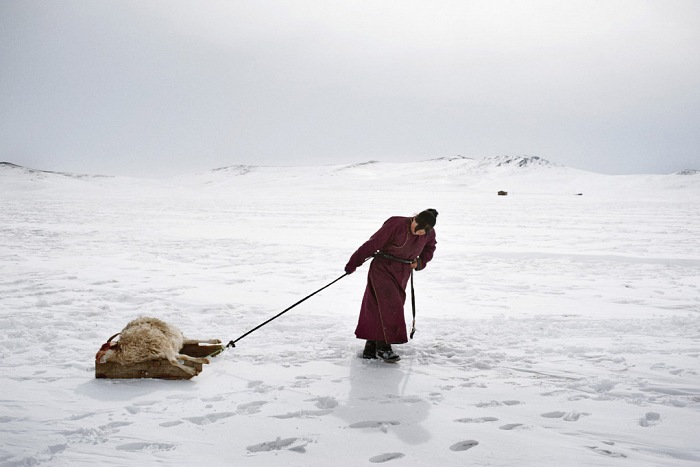 Dalla mostra Migranti climatici di Alessandro Grassani. © Alessandro Grassani.
Migranti ambientali Il lavoro di Alessandro Grassani è incentrato intorno alle conseguenze delle migrazioni dovute ai cambiamenti climatici che rendono sempre più difficili le condizioni di vita di popolazioni costrette a spostarsi verso i grandi centri urbani
MOSTRE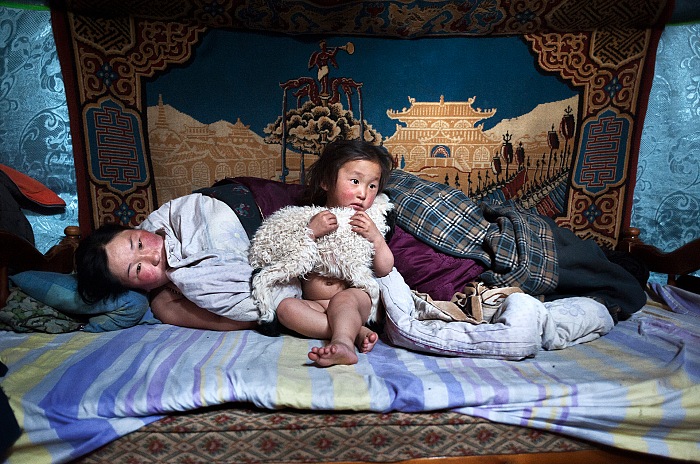 Asia, Mongolia. © Alessandro Grassani.
Erdene Tuya together with her 3 years old son called Tuvchinj (he hugs a young sheep which sleeps with them) just wake up. In Mongolia's Arkhangai province, the Tsamba family lives on the edge, struggling through harsh winters alongside their herd of sheep. Severe winter conditions, known as Dzud, have been responsible for the deaths of half the family's once 2,000-strong herd over the past three winters. Recently, in search of warmer pastures, the Tsambas moved from Bulgan province in the north to this region near a central Mongolian village called Ulziit. Only in 2010, during one of the harsher Dzuds, more than 8 million sheep, cows, horses and camels died in Mongolia so around 20.000 herdsmen had no choice but to migrate towards Ulan Bator.
L'ultima illusione Un progetto a lungo termine del fotoreporter italiano Alessandro Grassani che indaga il drammatico fenomeno della migrazione causato dai cambiamenti climatici
FPmag
direttore responsabile Sandro Iovine | sandro.iovine@fpmagazine.eu - caporedattore Stefania Biamonti - web developer Salvatore Picciuto | info@myphotoportal.com - coordinamento linguistico Nicky Alexander - traduzioni Nicky Alexander, Rachele Frosini - collaboratori Davide Bologna, Mimmo Cacciuni Angelone, Laura Marcolini, Stefano Panzeri, Pio Tarantini, Salvo Veneziano - referente per il Lazio Dario Coletti - referente per la Sardegna Salvatore Ligios - referente per la Sicilia Salvo Veneziano - redazione via Spartaco, 36 20135 Milano MI | redazione@fpmagazine.eu - tel. +39 02 49537170 - copyright © 2015 FPmag - FPmag è una pubblicazione Machia Press Publishing srl a socio unico - via Cristoforo Gluck, 3 20135 Milano MI | P.I. 07535000967 - C.F. 07535000967 - Registrazione del Tribunale di Milano n. 281 del 9 settembre 2014


ITA - Informativa sui cookie • Questo sito internet utilizza la tecnologia dei cookies. Cliccando su 'Personalizza/Customize' accedi alla personalizzazione e alla informativa completa sul nostro utilizzo dei cookies, cliccando su 'Rifiuta/Reject' acconsenti al solo utilizzo dei cookie tecnici, cliccando su 'Accetta/Accept' acconsenti all'utilizzo dei cookies sia tecnici che di profilazione (se presenti).

ENG - Cookie policy • This website uses cookie technology. By clicking on 'Personalizza/Customize' you access the personalization and complete information on our use of cookies, by clicking on 'Rifiuta/Reject' you only consent to the use of technical cookies, by clicking on 'Accetta/Accept' you consent to the use of both technical cookies and profiling (if any).