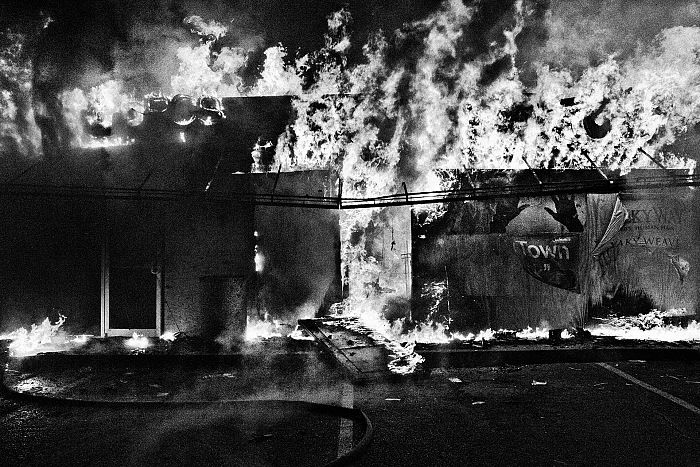 Following the announcement that a St. Louis County grand jury has decided to not indict Darren Wilson, a white Ferguson police officer, with the killing of Michael Brown, an unarmed eighteen-year-old African-American teenager, rioters set fire to numerous businesses throughout the city of Ferguson, Missouri. Ferguson, Missouri, United States. Tuesday, November 25, 2014. © Philip Montgomery.
EXHIBITIONS
On the verge of the abyss
Philipp Montgomery's exhibition "Flash Points" documents the recent happenings in Baltimora, Ferguson and Newark, and subtly describes how in America some of the old racial issues are not solved at all
more...
FPmag
editor in chief Sandro Iovine | sandro.iovine@fpmagazine.eu - senior writer Stefania Biamonti - web developer Salvatore Picciuto | info@myphotoportal.com - linguistic coordination Nicky Alexander - translations Nicky Alexander, Rachele Frosini - contributor Davide Bologna, Mimmo Cacciuni Angelone, Laura Marcolini, Stefano Panzeri, Pio Tarantini, Salvo Veneziano - local Lazio correspondent Dario Coletti local Sardinian correspondent Salvatore Ligios - local Sicilian correspondent Salvo Veneziano - editorial office via Spartaco, 36 20135 Milano MI | redazione@fpmagazine.eu - phone +39 02 49537170 - copyright © 2015 FPmag - FPmag is a pubblication of Machia Press Publishing srl a socio unico, via Cristoforo Gluck, 3 20135 Milano MI - VAT no. 07535000967 C.F. (TAX code) 07535000967 - Copyright © 2015 FPmag - Registered at Tribunale di Milano No. 281 on the 9th September 2014