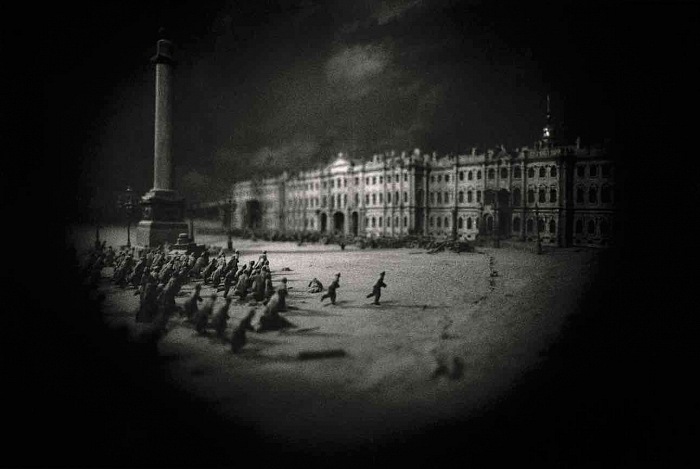 Saint Petersburg, Russia, Marine Museum, 2004 © Klavdij Sluban.
The point of equilibrium
Eyes in Progress is a program of workshops provided by masters of photography and photo professionals. The workshops take place each month in a different European city, and at the end of each of them Eyes in Progress website features the participants' portfolios, video interviews and a review by photo experts.
The next workshop part of this rich educational program will be with Klavdij Sluban and will take place in Paris on November 2015. This workshop – recommended for professional photographers and advanced amateurs – aims to teach how to identify the singularity of a work (finished or in progress) and how to improve and affirm one's personal style. «Style is the balance between exterior evidence and an interior necessity. It is very difficul – says Sluban –. At one point you think you have found something one could call a style, and you feel reassured by what you have found. The danger comes next, that is, the risk of falling into a kind of self-repetition».
More information are available here.
The point of equilibrium
Paris (France)
11 – 14 November 2015

deadline: October 12th, 2015
admission fee: 950,00 €
info: +33 (0)6 65581682
veronique.sutra@eyesinprogress.com
www.eyesinprogress.com
published on 2015-09-20 in NEWS / WORKSHOP
more in WORKSHOP


recent news
FPmag
editor in chief Sandro Iovine | sandro.iovine@fpmagazine.eu - senior writer Stefania Biamonti - web developer Salvatore Picciuto | info@myphotoportal.com - linguistic coordination Nicky Alexander - translations Nicky Alexander, Rachele Frosini - contributor Davide Bologna, Mimmo Cacciuni Angelone, Laura Marcolini, Stefano Panzeri, Pio Tarantini, Salvo Veneziano - local Lazio correspondent Dario Coletti local Sardinian correspondent Salvatore Ligios - local Sicilian correspondent Salvo Veneziano - editorial office via Spartaco, 36 20135 Milano MI | redazione@fpmagazine.eu - phone +39 02 49537170 - copyright © 2015 FPmag - FPmag is a pubblication of Machia Press Publishing srl a socio unico, via Cristoforo Gluck, 3 20135 Milano MI - VAT no. 07535000967 C.F. (TAX code) 07535000967 - Copyright © 2015 FPmag - Registered at Tribunale di Milano No. 281 on the 9th September 2014