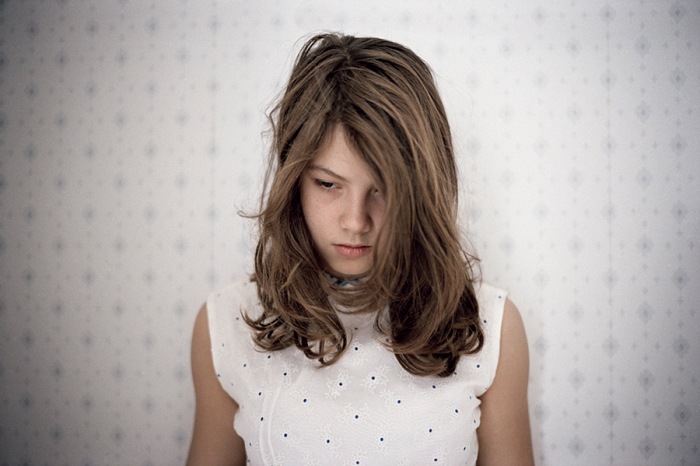 Sasha. © Claudine Doury.
The Sensitive Eye
Eyes in Progress is a program of workshops provided by masters of photography and photo professionals. The training programme organized for 2016 will include a series of workshops will take place each month in a different European city, that is Paris, Berlin, Barcelona and Amsterdam. At the end of each of them, on the Eyes in Progress's website will be published the participants' portfolios, video interviews and a review by photo experts.
The second workshop part of this new, rich educational program will be with the French photographer Claudine Doury, member of the Agence Vu', and will take place in Paris on March 2016. This workshop – recommended for professional photographers and advanced amateurs – aims to teach how to «invent your own language in order to incarnate your inner world». In other words, how to develop an artistic coherence in the approach of a subject in order to create a photographic series be it linked to fiction, reality or both. The workshop will consist of shooting sessions, individual assignments, daily group discussion and editing sessions. «You'll be expected to fully immerse yourself, take risks and push your boundaries in order to move forward into another level in your photography». More information are available here.

The Sensitive Eye
Paris (France)
16 – 19 March 2016
deadline: February, 16th 2016
admission fee: 980,00 €
info: +33 (0)6 65581682
veronique.sutra@eyesinprogress.com
www.eyesinprogress.com


_ _ _

[ EXTERNAL RESOURCES ]
◎ Claudine Doury
◎ Eyes in Progress
published on 2015-12-19 in NEWS / WORKSHOP
more in WORKSHOP


recent news
FPmag
editor in chief Sandro Iovine | sandro.iovine@fpmagazine.eu - senior writer Stefania Biamonti - web developer Salvatore Picciuto | info@myphotoportal.com - linguistic coordination Nicky Alexander - translations Nicky Alexander, Rachele Frosini - contributor Davide Bologna, Mimmo Cacciuni Angelone, Laura Marcolini, Stefano Panzeri, Pio Tarantini, Salvo Veneziano - local Lazio correspondent Dario Coletti local Sardinian correspondent Salvatore Ligios - local Sicilian correspondent Salvo Veneziano - editorial office via Spartaco, 36 20135 Milano MI | redazione@fpmagazine.eu - phone +39 02 49537170 - copyright © 2015 FPmag - FPmag is a pubblication of Machia Press Publishing srl a socio unico, via Cristoforo Gluck, 3 20135 Milano MI - VAT no. 07535000967 C.F. (TAX code) 07535000967 - Copyright © 2015 FPmag - Registered at Tribunale di Milano No. 281 on the 9th September 2014


ITA - Informativa sui cookie • Questo sito internet utilizza la tecnologia dei cookies. Cliccando su 'Personalizza/Customize' accedi alla personalizzazione e alla informativa completa sul nostro utilizzo dei cookies, cliccando su 'Rifiuta/Reject' acconsenti al solo utilizzo dei cookie tecnici, cliccando su 'Accetta/Accept' acconsenti all'utilizzo dei cookies sia tecnici che di profilazione (se presenti).

ENG - Cookie policy • This website uses cookie technology. By clicking on 'Personalizza/Customize' you access the personalization and complete information on our use of cookies, by clicking on 'Rifiuta/Reject' you only consent to the use of technical cookies, by clicking on 'Accetta/Accept' you consent to the use of both technical cookies and profiling (if any).