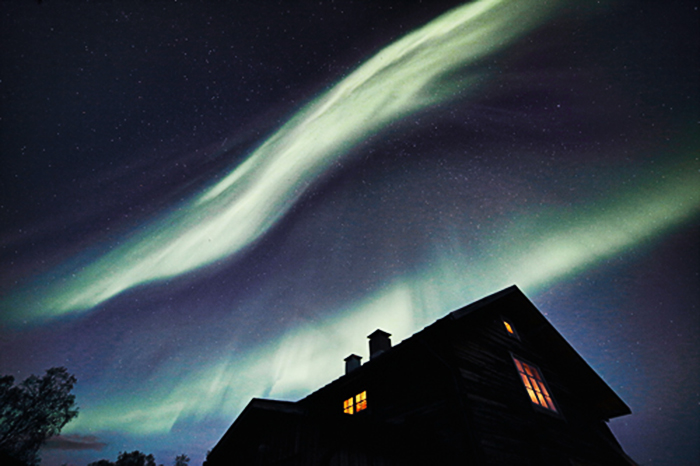 From the exihibition Pekka Sammallahti: Artic Mindscapes. © Pekka Sammallahti.
Artic Mindscape
The theme of the exhibition takes together images of nature and people in the north of America and Europe: Saamiland, Alaska and Spitsbergen.
These regions have common characteristics in the vastness of their landscapes, in the height of their skies and in their almost virgin nature where man has settled as its organic part a long time ago and where the intensive variation of seasons, light and colors creates the visual setting for life and living, the mindscape of the peoples in the Great North.
Pekka Sammallahti was born in Helsinki in 1947 and traveled to North for the first time when he was eleven years old. From the 1960's on Sammallahti has spent his summers in the North. Along all the time spent in the North Sammallahti has learnt different dialects of Sami language and has since become a strong and prominent figure amongst Sami language and culture. Sammallahti graduated as Master of Arts from the University of Helsinki in 1971 and became Licenciate of Philosophy in 1975. Sammallahti is emeritus professor of Sami language in the Giellagas – Institute of Oulu University. Sammallahti is best known for his Sami language dictionaries.
Pekka Sammallahti: Arctic Mindscapes
Pohjoinen valokuvakeskus, Hallituskatu, 7 - Oulu (Finland)
28 February – 29 March 2015
opening times: from Monday to Sunday, 10 am - 8 pm
admission fee: free
info: +358 040 1281150
julia@photonorth.fi
www.photonorth.fi
published on 2015-03-03 in NEWS / EXHIBITIONS
PekkaSammallahti
more in EXHIBITIONS


recent news
FPmag
editor in chief Sandro Iovine | sandro.iovine@fpmagazine.eu - senior writer Stefania Biamonti - web developer Salvatore Picciuto | info@myphotoportal.com - linguistic coordination Nicky Alexander - translations Nicky Alexander, Rachele Frosini - contributor Davide Bologna, Mimmo Cacciuni Angelone, Laura Marcolini, Stefano Panzeri, Pio Tarantini, Salvo Veneziano - local Lazio correspondent Dario Coletti local Sardinian correspondent Salvatore Ligios - local Sicilian correspondent Salvo Veneziano - editorial office via Spartaco, 36 20135 Milano MI | redazione@fpmagazine.eu - phone +39 02 49537170 - copyright © 2015 FPmag - FPmag is a pubblication of Machia Press Publishing srl a socio unico, via Cristoforo Gluck, 3 20135 Milano MI - VAT no. 07535000967 C.F. (TAX code) 07535000967 - Copyright © 2015 FPmag - Registered at Tribunale di Milano No. 281 on the 9th September 2014